Learn which Donner piano is the better investment in this Donner DEP-20 vs DDP-90 review.
Donner is one of the newbies in the music scene. The brand originally focused on affordable guitar pedals for budding guitarists on a budget. But they've recently branched out into electric pianos, and two models that caught my eye were the DEP-20 and the DDP-90.
These were some of the more affordable Donner pianos that surprisingly offered many cool features. And in this Donner DEP-20 VSC DDP-90 review, we'll find out which model is better.
It took me many tests and in-depth research to determine the winner, but I eventually found that the DEP-20 was the better option, especially if you're looking for versatility. The DDP-90 only does one thing, but it does it really well. And while the sound quality on the DEP-20 wasn't as clear and bright, I still found it to be the better option because of all its extra features.
That said, it was pretty obvious that these pianos were made for different musicians. And if you want to find out which one would fit your needs better, you've come to the right place. In this review, we'll answer all of that and more, so keep reading!
Donner DEP-20 vs DDP-90: Comparison Chart
Image
The Winner (#1)
The Runner Up (#2)
What I like
Decent voice quality
Comes with many different sounds
Fully-weighted keys
Very affordable
Portable
Very affordable
Comes with a very realistic piano tone
Realistic feel
Great sound system
Offers a lot of value for the money
The Winner (#1)
Image
What I like
Decent voice quality
Comes with many different sounds
Fully-weighted keys
Very affordable
Portable
The Runner Up (#2)
Image
What I like
Very affordable
Comes with a very realistic piano tone
Realistic feel
Great sound system
Offers a lot of value for the money
Last update on 2023-09-18 / Affiliate links / Images from Amazon Product Advertising API
Donner DEP-20 vs DDP-90: A Head-to-Head Comparison
To determine which piano was better, I conducted various tests and compared the features head to head. And after four separate comparison points, I found that the DEP-20 was the winner with a score of 3-2.
The score was close, but I couldn't deny how flexible the DEP-20 was and how it could be a versatile piano for beginners. Comparing these pianos proved my point that these were made for different pianists. So, even if the DEP-20 came out on top, both pianos came with great features you might find useful.
Feel & Playability
The winner: Donner DDP-90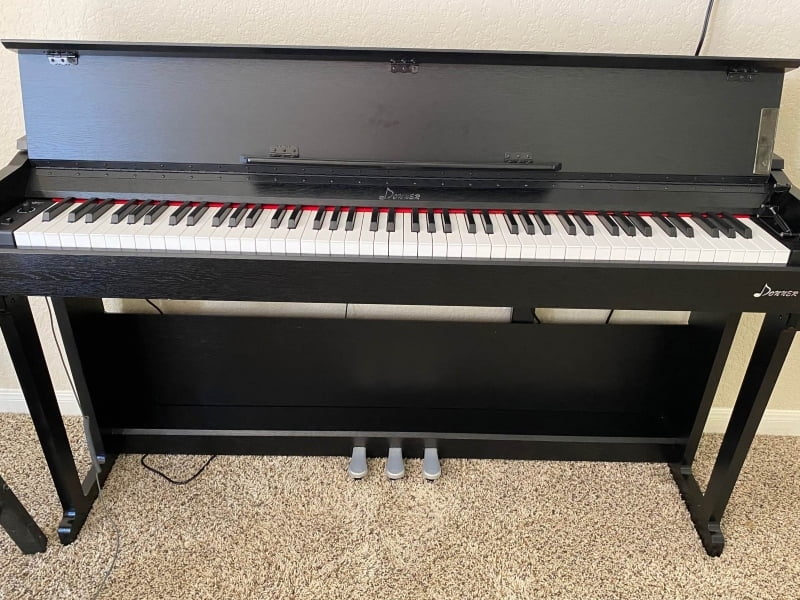 The first comparison point I had was the feel and playability of the pianos. And since the Donner DDP-90 is a console digital piano designed to replicate an acoustic piano as closely as possible, it was this category's definite winner. It has a better hammer action system that feels great on the fingers, and while both pianos have glossy plastic keys, there was no doubt that the DDP-90 felt much more realistic.
+Hammer Action
Before anything, I have to mention that the DEP-20 has a great hammer action system for the price. To my surprise, this portable piano came with fully-weighted keys, which is much better than many of the semi-weighted options in the same price range. So, you can expect a fairly realistic feel when playing the DEP-20.
That said, the DDP-90 had a much more sophisticated hammer action system. This piano comes with the Donner Hammer Action system. This type of hammer action features slightly heavier keys on the lower end of the piano. This is meant to replicate the way an acoustic piano feels, and I have to say it did a pretty good job at that.
Granted, this feature isn't as good as the progressive hammer action you find on more expensive models or the Graded Hammer Standard on some Yamaha pianos, it's one of the best options in this price range. So, if you want a realistic weight when playing the piano, I would highly recommend the DDP-90.
Remember, this is a console digital piano. So, it's much heavier and better replicates an acoustic instrument compared to the portable DEP-20. Granted, you won't be able to move this piano around as much, but if you need a realistic piano, you can't do much better than the DDP-90 in this price range.
Tone
The winner: Tie
You might think that the DEP-20 would win this comparison because it has a much wider sound library. And while that's true, I found that the single piano sound on the DDP-90 is so realistic that if you only need a piano sound, then it would be the better option.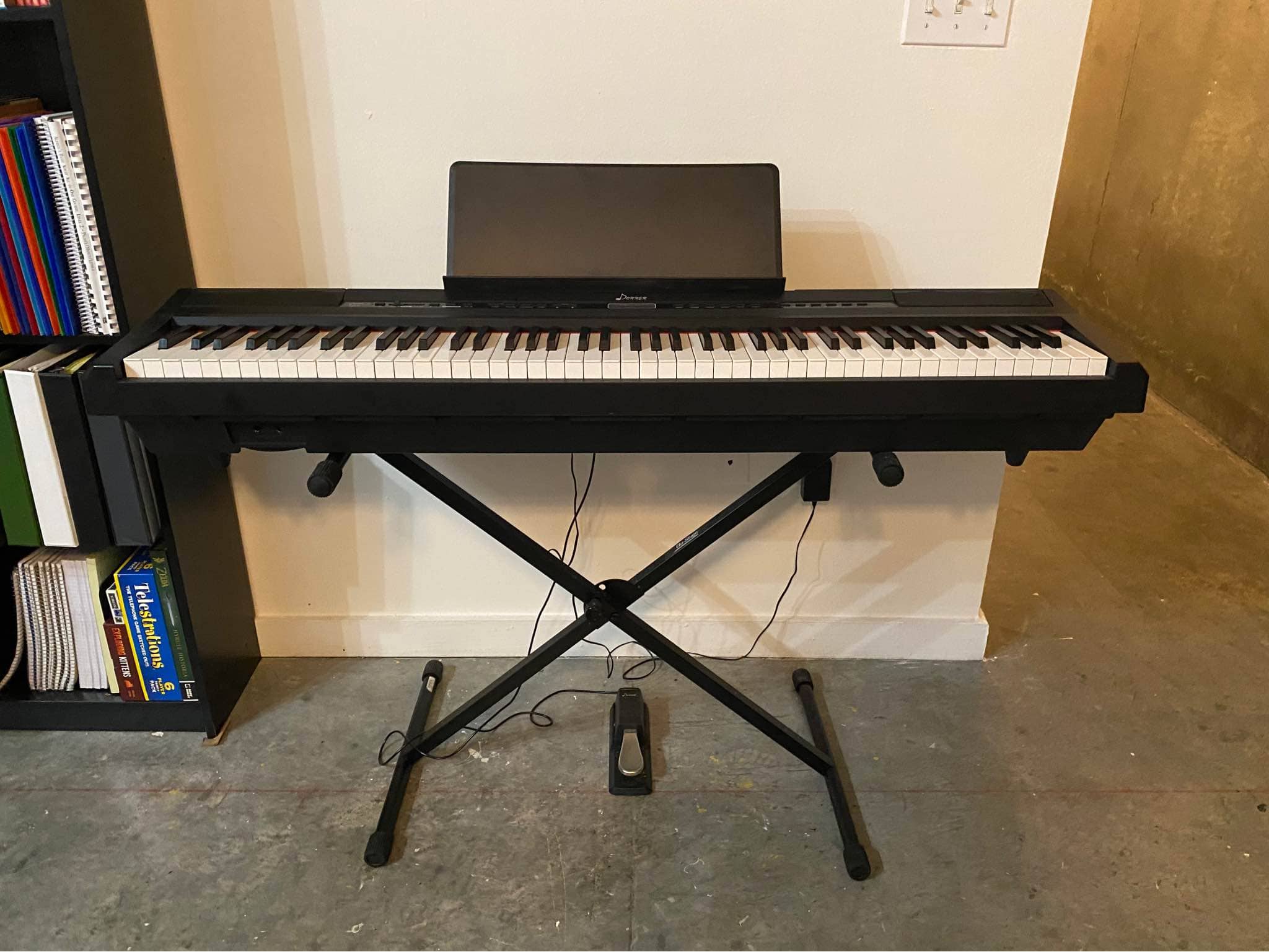 So, when it was all said and done, I decided to give the point to both pianos. They each offer unique benefits that would be ideal for different pianists.
+Tone Generation
This is where I found the Donner DDP-90 to prove its worth. While it only has one piano tone, it's loaded with some of the highest-quality samples on the market. So, whenever you press a key, you get a very bright and realistic piano sound.
The piano only has one voice, but it's one of the best in the price range. I was honestly surprised at how realistic the DDP-90 sounded, and it's definitely one of this piano's highlights.
The DEP-20, on the other hand, uses simpler samples. This means that you won't get tones that are as clear or realistic. When I tried the piano myself, I found the tones decent, but it was clear that it was coming from a digital piano.
On the flip side, the DDP-90 sounded very close to an acoustic piano.
+Sound Library
While the DEP-20's piano sound isn't as realistic, you get many more sound options with this piano. The DEP-20 comes with a sound library of over one hundred voices with around the same number of pre-loaded songs that you can play along with at any time. This is great for beginners and novices as it allows you to experiment with different tones to find your own unique style.
Again, keep in mind that these voices aren't the best quality on the market. But if you're looking for versatility, you definitely get that with the DEP-20.
Piano Features
The winner: Donner DEP-20
Another feature I chose to look at was the piano features. And in this category, the Donner DEP-20 came out on top again. Let me explain why.
+Playing Modes
One of the coolest features of the Donner DEP-20 is the split and layering modes. With the split mode, you can divide the piano into two zones with different voices in each zone. That way, you can create unique combinations that make it seem like you're playing two separate instruments.
This is will come in handy if you're playing accompanying piano for a vocalist or if you're in a live band.
Layering mode, as the name suggests, allows you to layer to voices on top of each other. The result is a really cool blend of two voices that you can use to create a signature sound.
The DDP-90 didn't come with any of these extra playing modes. As I mentioned before, this piano does one jobe exceptionally well. But if you're looking for extra functions and playing modes, it may not be the right one for you.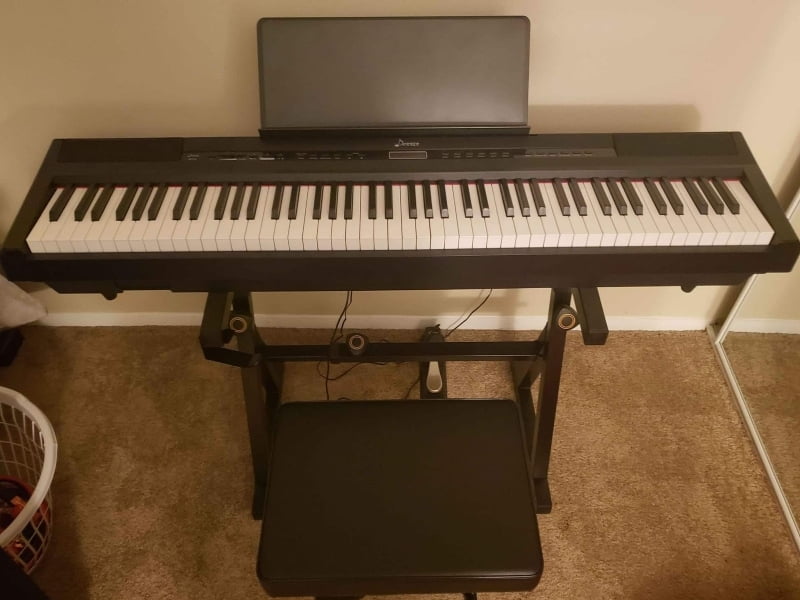 Portability
The winner: Donner DEP-20
The ultimate factor that made me declare the DEP-20 the winner was the fact that it was portable. If you're a beginner, novice, or even a performing musician, you will eventually have to bring your instrument with you, whether it's to lessons, rehearsals, or a performance.
If you opt for the DDP-90, you won't be able to bring the piano around. This instrument is designed to stay in one place. This is a console digital piano, so carrying it and loading it into your car will be a hard, if not impossible, task.
Donner DEP-20 vs Donner DDP-90: The Similarities
The differences between these two pianos made this a very interesting comparison. They are designed for different types of pianists, so even if I found the DEP-20 better, there are still some pianists that would find the DDP-90 more useful. That said, these pianos still share a couple of similarities.
For example, they are both very affordable pianos. Even if I had complaints with both models, there's no denying that they offer a lot of value for the money. This is a signature feature of Donner instruments and musical accessories, which is why they are a great choice for musicians on a budget.
If you need a versatile piano for gigs and jams, I would recommend the DEP-20. It's portable, comes with many voices, and has various playing modes.
But if you want something closer to a real acoustic piano, the DDP-90 is a great affordable option.
Quick Rundown of the Donner DEP-20
Donner DEP-20 Beginner Digital Piano 88 Key Full Size Weighted Keyboard, Portable Electric Piano with Sustain Pedal, Power Supply
🎹 【Full-Weighted 88 key keyboard】The digital electric piano is constructed by 88 full-sized hammer action keys with adjustable touch response. This 88-key weighted keyboard allows to adjust your desired playing style.
🎹 【238 Tones & 128 Polyphony】 The 88-key weighted keyboard loaded with 238 types of tone like Ukulele, drum, bass, etc. vividly presenting voices of different instruments, arousing your keen to learn music. The digital electric piano with 128-note max polyphony, players could distinguish tone clearly in Chorus & Reverb under various occasions.
🎹【Double Keyboard & Control Panel】This 88 key weighted keyboard provides dual-tone mode for combining two voices together, like piano and drum, inspiring to make a new creation. Panel includes sustain pedal, triangle pedal and audio inputs & outputs, perfectly used for music arrangement and an ensemble.
🎹 【Multi-Media Settings】This digital piano features with a backlit LCD screen for clearly showing chords names and notation and adjusting wanted tones, recording mode-MIDI, MP3 Player and two 25W amplifiers, bringing you richer and better experience of practice and performance.
🎹【Multi-Purpose 88 key keyboard】This streamlined 88-key piano is designed for rehearsing, learning and creating, practice or performance.
Last update on 2023-09-18 / Affiliate links / Images from Amazon Product Advertising API
Quick Rundown of the Donner DDP-90
Donner DDP-90 Digital Piano, 88 Key Weighted Piano Keyboard for Beginner/Professional, Keyboard Piano W/Three Pedals, Supports U-disk Music Playing, PC/Tablet/Cell Phone Connecting, Audio In/Output
🥇【Ideal First Digital Piano For Modern Living Space】The DDP-90 is an 88 key weighted digital piano built for modern life. With a contemporary, compact design perfect for smaller apartments or home, it's perfect to start your piano learning journey.
🥇【Hammer Action Weighted Keyboard】From first notes to early recitals – and beyond – it's vital to choose a piano that inspires beginner as their playing improves. DDP-90 digital piano keyboard features 88 full-sized responsive weighted keys, whose hammer action and ivory-feel texture brings out every nuance of a beginner's developing touch, encouraging them to play with passion and find their musical voice.
🥇 【Dynamic and Rich Sound】Equipped with quality sound samples from real acoustic grand pianos, testing and adjusting the details of timbre repeatedly, to make the sound expression more realistic and dynamic, help you develop a keen ability to distinguish sound. 128 polyphony meet your fast trills playing, and metal triple-pedal system ensure the quality of your playing, bring more personal emotion to your playing. The triple pedal jack is under the keyboard (5-pin).
🥇 【Smaller Size, Compact Home Use】DDP-90 electric piano keyboard is smaller and lighter than the normal piano without infect sound quality, specially designed for the Compact Family Room. The excellent flip cover come with a slow closing function to protect your hands and keyboard. Headphone mode is very suitable for beginners to practice piano late at night or where speakers are not suitable without disturb others.
🥇 【Multiple Device Connecting】Come with USB-MP3 playing(built-in amplifier); PC/Laptop/Tablet/Smartphone USB MIDI concecting (for music app using and music recording); External sound support (need to connect to external speakers); Headphone using(the headphone jack is at the bottom left of the electric piano). Input AC: 100V-240V, Output DC: 12 3A, Adapter Transformer DC: 5.5mm x 2.2mm
Last update on 2023-09-18 / Affiliate links / Images from Amazon Product Advertising API
Product Videos
Related Articles to Donner Dep 20
Related Articles to Donner Ddp 90
References:

Lulacruza is an electronic folk duo operating at the junction of the hypermodern and the ancient. Our music weaves together hypnotic female singing, South American folk instruments and electronic processing, while channeling pulsating waves from the source of creation.
Lalucruza is also a community where you can connect with other music lovers to collaborate, exchange ideas and share knowledge. A platform for who wants to learns the basics of playing piano, guitar, drum masters' technique, etc.. is the premise of our website.