Yamaha is at the top of their game, but newcomer Alesis played their cards right with their entry-level digital piano and won the Alesis Recital Vs Yamaha NP12 match.
Finding a good digital piano is pretty easy these days when there are over a dozen excellent options to choose from. But seeing an impressive piece that costs $300 or less makes this a pretty hard feat to pull off.
The Recital by Alesis and the NP12 from Yamaha's Piaggero Series are two up-and-coming options. And while these are impressive instruments at the same price point, they are very different. The former is a digital piano, while the latter is classified as a keyboard. 
I find that it's not easy to conclude which came out on top in the Alesis Recital Vs Yamaha NP12 match-up mainly because each is marketed for a particular buyer. But if the basis for the winner is just the specs, I have to say that Alesis is the more prudent choice. 
Alesis Recital Vs Yamaha NP12: Comparison Chart
Image
The Winner (#1)
The Runner-Up (#2)
Touch sensitivity
Adjustable touch response
What I like
Low-priced 88-key digital piano
Good polyphony count for an entry-level piece
Has all important functions and playing modes
Has powerful built-in speakers
Makes use of AMW Stereo Sampling as sound engine
Features ten voices and songs
Can record tracks
Lightweight, compact, and truly portable, perfect for busking
Simple control panel and upward facing speakers
The Winner (#1)
Image
Touch sensitivity
Adjustable touch response
What I like
Low-priced 88-key digital piano
Good polyphony count for an entry-level piece
Has all important functions and playing modes
Has powerful built-in speakers
The Runner-Up (#2)
Image
What I like
Makes use of AMW Stereo Sampling as sound engine
Features ten voices and songs
Can record tracks
Lightweight, compact, and truly portable, perfect for busking
Simple control panel and upward facing speakers
Last update on 2023-11-26 / Affiliate links / Images from Amazon Product Advertising API
Alesis Recital Vs Yamaha NP12: Head to Head Comparison
The Alesis Recital is a massive favorite among first-time piano players and new musicians primarily because it is high quality and incredibly affordable digital piano. This is evidenced by the thousands of sales and the high approval rating in shopping sites like Amazon. The Yamaha Piaggero NP12 is just as exceptional – for a smaller piece, it does pack a punch in sound quality.
But objectively speaking, the Recital is loaded with way more features and functions – all of which are beginner-friendly – that it's just fair to give a 3:1 rating in its favor.
Feel and Playability
The Winner: Alesis Recital
Professional musicians and music teachers often recommend using digital pianos that feel similar to an acoustic one so their students won't have to make a huge adjustment when they play on an upright or a grand. This 'feel' points specifically to the keys – its texture, resistance, and the sound produced when pressed gently or forcefully.
I found these two to be lacking in this aspect, to be honest. But because the NP12 from Yamaha is a 61-key keyboard, ergo has ultimately no attempt to mimic acoustic keys; I'm giving this point to the full 88-key Recital by Alesis.
+Hammer Action
The Alesis Recital has semi-weighted keys, so there is that bit of resistance when you press it down. However, it's not graded, so the heaviness on the bass and lightness on the treble is indiscernible.
The NP12 is also semi-weighted, using spring mechanisms with light weights. This is relatively uncommon for keyboards in general which is a plus point for this Piaggero model. But it does not have the grading found in Yamaha digital pianos.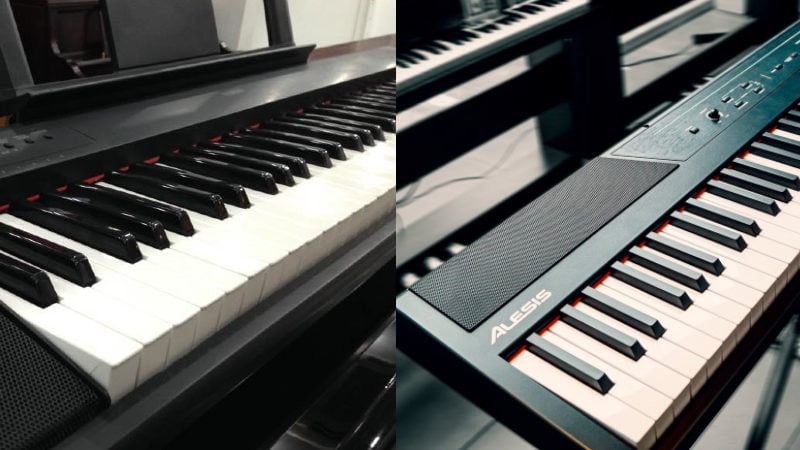 +Touch Sensitivity
The lack of full weights or grading on both the Alesis Recital and Yamaha NP12 is compensated by the addition of touch sensitivity. This feature refers to the intensity of sound created depending on the pressure on the keys.
Although the Recital has three levels and the NP12 has four, the systems used on both are remarkably responsive and fluid.
+Key Texture
Compared to pricier entry-level pieces in the market, the texture of the keys on both the Recital and the NP12 is subpar. Many are disappointed about the smooth plastic keys that cause fingers to accidentally slide from one note to another.
This isn't that bothersome for me, especially since I don't expect perfection from a $200 piece. And many beginners don't mind since this makes for good practice sessions.
Tone
The Winner: Tie
Yamaha seemed to have perfected its sound engine because no one can deny the richness and quality of sound from their Piaggero NP12. I would have given this point to the NP12 since the Recital has fewer voices and tracks in its sound library, but it still has some faults due to the deficiency in amplification. Granted, that's another feature altogether (which I will also discuss in detail), but that does affect this chapter.
+Tone Generator
The Advanced Wave Memory (AWM) Stereo Sampling that Yamaha uses for the NP12 involves recording then combining several samples of the notes to come up with a clear and resonant sound. Alesis also uses sampling, but I find it's not as vivid or bright as Yamaha's. Then again, beginners won't immediately notice the difference,
I would have given this point to the NP12, except that the bass sounds a bit muddy. And I'm attributing this minor fault to the speakers.
+Sound Library
Let's tackle two specific features on this point: voices or the different instruments that the keyboard can play and the demo tracks or the pre-recorded songs that musicians can use for practice.
Alesis' Recital has five voices – acoustic and piano, organ, synth, and bass. This isn't a lot, but the bass is a beautiful addition, an uncommon instrument captured for entry-level digital pianos. Yamaha's NP12 has ten voices, so musicians have a wide range of musical types to explore. I don't care much for the vibraphones and harpsichords, but I love the acoustic and electric pianos on the NP12.
The NP12 also wins in the built-in tracks, having ten compared to the Recital with just two. While these are used primarily to show off the overall clarity and resonance of the piece, these can also help students hone their speed and dexterity on the ivories.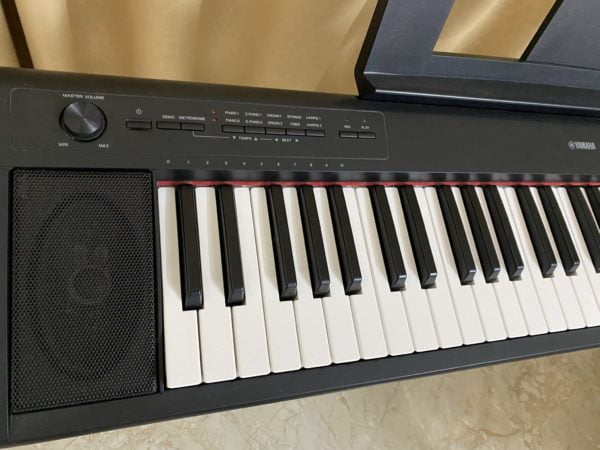 Piano Functions and Features
The Winner: Alesis Recital
There are some features that the Yamaha NP12 has, but the Recital Alesis lacks, and vice versa. But in the end, the latter comes out on top in this segment because it has way more essentials, which are valuable for a practicing piano novice.
+Polyphony
This feature is defined as the number of sounds that the digital piano can create at the same time – much needed for complicated musical pieces that require specific notes to linger even when other notes are being played.
The NP12 only has 64, an odd decision for Yamaha since this model is marketed to traveling musicians and buskers. The Recital has 128. Granted, that still isn't a lot, but this can last a year or two for a beginner before he requires more to match his skills.
+Playing Modes
Both the Yamaha NP12 and the Alesis Recital have Dual Mode, the capability of the piece to play two voices simultaneously (an acoustic piano and strings, for instance) for that rich orchestral sound.
The Alesis Recital has two more: Lesson and Split Modes. The former bisects the 88-keys into two 44-key pianos of the same pitch, great for practicing with a tutor. The latter also bisects the piano into two, except that the left 44 keys play one voice while the right 44 keys play another.
+Effects
The two also share an essential effect that enhances the sound played: Reverb. This effect reconstructs the sound of a chosen voice in a specific place, say a large auditorium or a small music hall.
Alesis added Chorus to the Recital, an effect that combines two similar notes into one, creating that thick, swirly sounds often heard in electric pianos.
+Recording Capability
This feature is significant for newbies to keep tabs on their progress and for composers so that they can capture harmonies that enter their minds immediately. The NP12 has recording capability, albeit for just one track, and beats the Recital in this regard.
+Speaker System
Alesis walks away with another point with this particular feature because they packed the Recital with a more robust speaker system at 20W power. Even better, the speakers are upward facing.
As aforementioned earlier, the speakers on the Yamaha NP12 are pretty unsatisfactory, with just two 12x6cm cones at 2.5W each. To fully experience Yamaha's sound engine, it's best to put your headset on.
+Connectivity
The two models have the basic inputs for headsets, sustain pedals, USB, and DC-In. Both are also battery-powered, an excellent feature that makes these genuinely portable.
The trouble with the NP12 is that it doesn't have a dedicated AUX out (the input for the headset can be used as the jack for external speakers), which is a must-have considering that its speaker system is a bit weaker. Alesis wins here yet again, thanks to its RCA AUX out.
Alesis Recital Vs Yamaha NP12: The Similarities
The Alesis Recital and Yamaha NP12 have very few similarities, evidenced by the different points discussed earlier. But a few may cause the dilemma among buyers looking for their first keyboard.
First, the two are lightweight and portable. Second, the control panel is well-organized and straightforward, and there is no need to browse through the user's guide. Last but not least, both are fairly priced at under $300.
It's understandable for beginners to want a Yamaha as their first keyboard – primarily when the Piaggero NP12 covers the essential must-haves. But the Alesis Recital has those and more, therefore the better option. 
Quick Rundown of Alesis Recital
Alesis Recital – 88 Key Digital Piano Keyboard with Semi Weighted Keys, 2x20W Speakers, 5 Voices, Split, Layer and Lesson Mode, FX and Piano Lessons
An Electric Piano That's Tailored to You - Feature-packed Electric keyboard with 88 premium full-sized semi weighted keys with adjustable touch response to suit your preferred playing style
Premium Sounds - 5 voices (Acoustic Piano, Electric Piano, Organ, Synth, and Bass), built-in FX: Chorus, Reverb, and two built in 20W speakers that deliver crystal-clear, room-filling sound
All The Right Connections - ¼" sustain pedal input (pedal not included), ¼" stereo headphone output for private practice and stereo RCA outputs for connection to speakers / amplifiers
Play the Keyboard Wherever You Go - Power via the included power adapter or 6 D cell batteries (not included) for professional piano performance anywhere
Powerful Educational Features - Standard, split, layer, and lesson modes with 128-note max polyphony and Skoove 3 month premium subscription for expert interactive online piano lessons
Last update on 2023-11-26 / Affiliate links / Images from Amazon Product Advertising API
Quick Rundown of Yamaha NP 12
YAMAHA NP12 61-Key Lightweight Portable Keyboard, Black (Power Adapter Sold Separately)
61 touch sensitive piano-style keys are the perfect introduction to the feel of piano playing
The controller App for iOS adds a rich, graphic user interface allowing for quick and easy navigation and configuration
The USB to Host port allows you to connect and interact with a wide variety of educational and musical creation Apps on a computer or mobile device
Battery powered. Uses six AA batteries with five hours of life
Additional upgrades include 64-note polyphony, a song recorder function, and extended battery life. Power consumption:8 W
Last update on 2023-11-26 / Affiliate links / Images from Amazon Product Advertising API
Product Videos
Related Articles to Alesis Recital
Reference:

Lulacruza is an electronic folk duo operating at the junction of the hypermodern and the ancient. Our music weaves together hypnotic female singing, South American folk instruments and electronic processing, while channeling pulsating waves from the source of creation.
Lalucruza is also a community where you can connect with other music lovers to collaborate, exchange ideas and share knowledge. A platform for who wants to learns the basics of playing piano, guitar, drum masters' technique, etc.. is the premise of our website.