Choosing between Alesis Recital Vs Yamaha NP32 is tricky – one is a digital piano, the other is a keyboard. How you plan to use this greatly matters in the decision.
It is understandable that most beginner piano players go for affordable models from reliable brands. But the truth is not all entry-level digital pianos are made the same way. Not all low-cost pieces are even technically digital pianos.
This confusion is the case with the Alesis Recital Vs Yamaha NP32. Generally speaking, keyboards are not made to simulate an acoustic piano in tone and feel. The NP32 is categorized as such, unlike the 88-key Recital, which is Alesis' entry-level digital piano offering.
But the comparison has to be made because Yamaha went above and beyond with their Piaggero series, to which the NP-32 belongs. Except for a few issues, it works like a digital piano and is a worthy competitor of the highly-lauded Alesis Recital.
Alesis Recital Vs Yamaha NP32: Comparison Chart
Image
The Winner (#1)
The Runner-Up (#2)
Touch sensitivity
Adjustable touch response
What I like
Remarkably affordable for an 88-key digital piano
Adequate sound engine creates clear enough tones
Comes with Reverb and Chorus effects
Compact and lightweight
Has powerful built-in speakers
Features the highly-lauded Yamaha sound engine
Has recording capability
Can last up to seven hours on battery
Lightweight, compact, and truly portable, especially for traveling and busking
Simple control panel and upward facing speakers
The Winner (#1)
Image
Touch sensitivity
Adjustable touch response
What I like
Remarkably affordable for an 88-key digital piano
Adequate sound engine creates clear enough tones
Comes with Reverb and Chorus effects
Compact and lightweight
Has powerful built-in speakers
The Runner-Up (#2)
Image
What I like
Features the highly-lauded Yamaha sound engine
Has recording capability
Can last up to seven hours on battery
Lightweight, compact, and truly portable, especially for traveling and busking
Simple control panel and upward facing speakers
Last update on 2023-06-10 / Affiliate links / Images from Amazon Product Advertising API
Alesis Recital Vs Yamaha NP32: Head to Head Comparison
These two musical instruments are often mentioned in the same breath because of their affordability. Alesis, a newcomer in the industry, has good quality yet incredibly cheap digital pianos – the Recital is only $200. Yamaha has made leaps and bounds in piano technology in the past century, which can be slightly pricey. The Piaggero NP32 is one of their sub-$500 pieces.
There are similarities between the two, though very far and few in between. It's tough to choose the winner because, strictly speaking, they're not in the same category. Nonetheless, many beginners choose between the two options.
For those who need a digital piano for practicing, the Alesis Recital wins over the Yamaha NP32 3:1. Don't get me wrong, the latter is still an excellent instrument, but many would agree with me that it's the better option for more competent players who need an extra keyboard for traveling.
Feel and Playability
The Winner: Alesis Recital
For a low-cost model, the Alesis Recital is satisfactory in this regard. All 88 keys are weighted and touch-sensitive, passably close to the feel of expensive grand pianos. Yamaha's Piaggero NP32 only has 76 keys – acceptable for a keyboard. And although these are weighted as well, the partial keys and other minor flaws may be considered a downright failing by meticulous tutors.
+Hammer Action
Alesis' Recital semi-weighted keys have a spring mechanism that provides a bit of resistance when pressing the keys. All of Yamaha's Piaggero, the NP32 included, makes use of the spring-loaded Graded Soft Touch system, which means that the left-most bass keys are heavier than the right-most trebles. But the feel is quite indistinguishable since it does not have counterweights.
All in all, the hammer action on these two is just fair – adequate for beginners who might find fully weighted ones too heavy. However, adjustments must be made when they start playing on an acoustic grand.
+Touch Sensitivity
This is usually categorized with Metronome and Transpose functions, but it does add to the realism of the feel and the sound produced; that is why it's in this particular chapter.
Touch sensitivity refers to the sound created depending on how the keys are pressed. If the key is softly pressed, the sound that comes out is subdued; but when you press the key hard, the sound is more powerful. Thankfully, both the Recital and NP32 have this.
+Key Texture
This feature is where the two models fared quite badly. Made from plastic, the Recital and the NP32 have smooth white keys and (thankfully) slightly matte black keys. My fingers tend to slide from one key to another accidentally, and I am not alone in this complaint.
Here, Yamaha also makes it evident that the Piaggero is a keyboard and not a digital piano. Aside from the slightly wider spacing between the ivories, the keys are also a millimeter or two narrower than usual. Expert musicians notice this, but it won't be a massive issue for first-timers.
Tone
The Winner: Yamaha NP32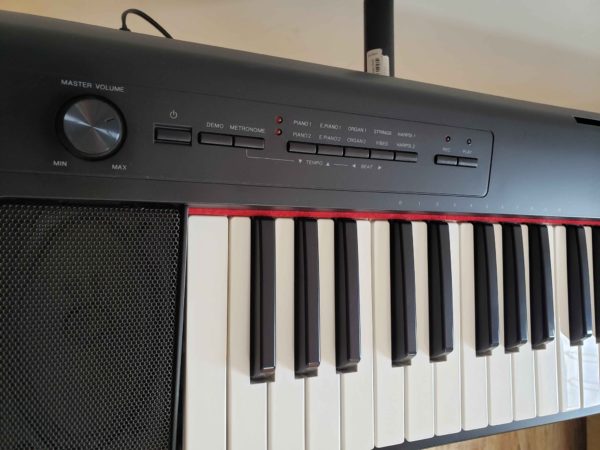 This chapter is where Yamaha shows off its prowess in piano manufacturing and exceeds Alesis by a mile. To be fair, the Alesis sound engine and library aren't that bad considering that the company was only established a decade ago. But I can just imagine how difficult it must be for newcomers to beat the technology and undeniably high quality of Yamaha's craftsmanship.
+Tone Generator
Yamaha Piaggero makes use of the Advanced Wave Memory (AWM) Stereo Sampling. In the simplest terms, this is recording several samples of an instrument and then combining all those to recreate the instrument's tone realistically.
Alesis makes use of sampling, which is essentially the same method. However, Yamaha was able to capture the sound entirely and with clarity, such as the sustained sounds and even the longer, more natural decay.
+Sound Library
The NP32 wins again because it has twice the number of voices compared to the Recital. Piaggero NP32's ten are two acoustic pianos, two electric pianos, two pipe organs, two harpsichords, a vibraphone, and a set of strings. All decently captured, this allows the musician to explore a wide range of voices.
The five from Alesis Recital are acoustic piano, e-piano, organ, synth, and bass. To be fair, all these are up to standard. And I like the bass option, which we don't often find in entry-level digital pianos.
+Demo Tracks
I added this as a stand-alone feature because it does help beginners when they want to play along with musical pieces built into the instrument. The two featured instruments do not have a lot but the NP32 fares better with ten than the measly two the Recital has.
Piano Functions and Features
The Winner: Alesis Recital
Alesis pulls this out of the bag by packing the Recital with numerous functions that are incredibly valuable for a beginner musician. It's not wise to speculate why Yamaha decided to slash many features in their Piaggeros, but they flat-out did. Anyone would wholeheartedly agree that it's just fair to award this point to the affordable new kid on the block.
+Polyphony
A usually overlooked but essential feature, Polyphony is the ability of the instrument to play several sounds simultaneously. Newly released digital pianos often have over a hundred, and the Recital does not disappoint with 128. It's pretty sad that the Yamaha NP32 only has 64 since the company markets this to musicians who do gigs or piano players with intermediate skills.
+Playing Modes
All beginners should look for three basic playing modes when choosing a digital piano: Lesson, Dual, and Split capabilities.
Lesson bisects the 88-key piano into two 44-key pianos with the same pitch. This mode allows the tutor and student to sit side-by-side and play together. Dual is when two (or more) voices can be played at the same time, giving that orchestral effect. Split divides the piano into two, just like the Lesson mode, but the left side plays one voice, and the right plays another.
The Recital has all three. The NP32 only has the Dual mode.
+Effects
The NP32 and the Recital have Reverb, undeniably the most crucial effect on digital pianos and keyboards. This effect mimics the sound of an instrument in different spaces, say a huge concert hall or a small room.
Alesis added the Chorus to their entry-level offering. Often used for electric pianos, this combines two almost similar notes into one richer sound.
+Speaker System
The Yamaha NP32 has decent built-in speakers: two upright facing 12x6cm cones with 6W power each. The Alesis Recital blows that out of the park with a total of 20W powered built-in speakers. Amplification may be needed if you play with a band but the on-board speakers can handle solo performances in a lounge or small hall.
+Recording Capability
This is where the Piaggero NP32 outshines the Alesis Recital and even other entry-level Yamahas in the market today. With a built-in recorder and instant playback, musicians can immediately record their compositions or practiced songs on the NP32.
+Connectivity
The two models have pretty much the same connectivity capabilities, from sustain pedals and headsets to the USB to host for MIDI.
The Alesis Recital does have an AUX (RCA) out – a must-have for amplification. But the NP32 hits the jackpot again in this aspect since it can be battery-operated. The batteries can last seven hours at full volume – great for traveling or busking musicians.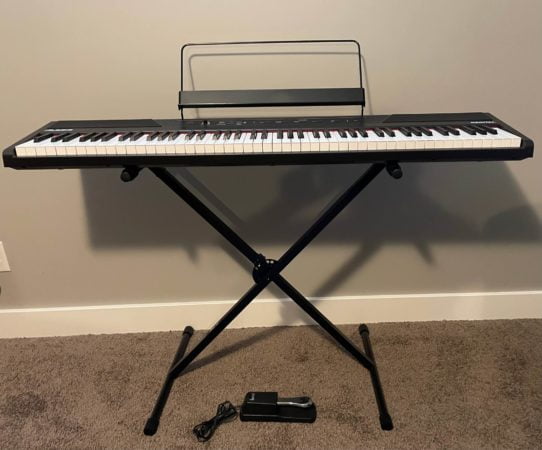 Alesis Recital Vs Yamaha NP32: The Similarities
As aforementioned, there are just a few commonalities between these two. Most of these are in terms of the essential functions, connectivity, and the overall appearance of the digital pianos.
The two have touch sensitivity, a metronome, and transpose capabilities. They also have inputs for a headphone, sustain pedals (although the two do not come with a sustain pedal and must be bought separately), and a USB. Finally, the two have the same clean and boxy appearance, have no-fuss control panels and are pretty close in dimensions. After all, lightness and portability are must-haves.
There is no doubt that the Recital from Alesis and the Piaggero NP32 of Yamaha captured the essence of an acoustic grand. But after carefully assessing all the features, the Recital is the better option for newbies who are just about to start their piano journey.
Quick Rundown of the Alesis Recital
Alesis Recital – 88 Key Digital Piano Keyboard with Semi Weighted Keys, 2x20W Speakers, 5 Voices, Split, Layer and Lesson Mode, FX and Piano Lessons
An Electric Piano That's Tailored to You - Feature-packed Electric keyboard with 88 premium full-sized semi weighted keys with adjustable touch response to suit your preferred playing style
Premium Sounds - 5 voices (Acoustic Piano, Electric Piano, Organ, Synth, and Bass), built-in FX: Chorus, Reverb, and two built in 20W speakers that deliver crystal-clear, room-filling sound
All The Right Connections - ¼" sustain pedal input (pedal not included), ¼" stereo headphone output for private practice and stereo RCA outputs for connection to speakers / amplifiers
Play the Keyboard Wherever You Go - Power via the included power adapter or 6 D cell batteries (not included) for professional piano performance anywhere
Powerful Educational Features - Standard, split, layer, and lesson modes with 128-note max polyphony and Skoove 3 month premium subscription for expert interactive online piano lessons
Last update on 2023-06-10 / Affiliate links / Images from Amazon Product Advertising API
Quick Rundown of the Yamaha NP32
Yamaha NP32 76-Key Lightweight Portable Keyboard, Black
76-Key Graded Soft Touch (GST) keyboard action provides gentle weighting, whilst retaining the soft touch of a digital keyboard
Advanced Wave Memory Stereo Sampling recreates natural instrument sound in stereo
The controller App for iOS adds a rich, graphic user interface allowing for quick and easy navigation and configuration
The USB to Host port allows you to connect and interact with a wide variety of educational and musical creation Apps on a computer or mobile device
Additional upgrades include 64-note polyphony, a song recorder function, and extended battery life
Last update on 2023-06-10 / Affiliate links / Images from Amazon Product Advertising API
Product Videos
Related Articles to Alesis Recital
Related Articles to Yamaha Np32
References:

Lulacruza is an electronic folk duo operating at the junction of the hypermodern and the ancient. Our music weaves together hypnotic female singing, South American folk instruments and electronic processing, while channeling pulsating waves from the source of creation.
Lalucruza is also a community where you can connect with other music lovers to collaborate, exchange ideas and share knowledge. A platform for who wants to learns the basics of playing piano, guitar, drum masters' technique, etc.. is the premise of our website.