Looking for a console piano on a budget? Find out the best one for your needs in this Casio PX-770 vs Korg B2SP review!
Finding a good console digital piano is tough nowadays. There are just so many options out there that it's easy to get overwhelmed. But if you're shopping in the sub-$1,000 range, I highly suggest that you check out the Casio PX-770 and the Korg B2SP.
These are some of the best options in this price range and offer a lot of value for the money. And if you're trying to choose between the two, you've come to the right place.
In this Casio PX-770 vs Korg B2SP review, we're taking a close look at these two pianos. I'll be dissecting their features and looking at their similarities and differences to help you find the best fit for your needs.
After thorough testing, I determined that the Casio PX-770 edges out a win with its better tones and more realistic piano feel. That said, there are some people that might prefer the Korg B2SP depending on their needs.
So, keep reading to learn all the details of these two pianos and finally figure out which one would be the better pick for you!
Casio PX-770 vs Korg B2SP: Comparison Chart
Image
The Winner (#1)
The Runner-Up (#2)
Effects
4 x Reverb, 4 x Chorus, 3 x Brilliance
Tone Generation
AiR (Acoustic and intelligent Resonator)
What I like
Ideal for those in need of a budget digital piano
Comes with some of the best tones in the price range
Scaled Hammer Action
The textured keys offer a great feel
A varied set of tones
Way more affordable than the PX-770
Easy to use
Comes with the basic piano tones
Lesson mode
Chorus and reverb effects
The Winner (#1)
Image
Effects
4 x Reverb, 4 x Chorus, 3 x Brilliance
Tone Generation
AiR (Acoustic and intelligent Resonator)
What I like
Ideal for those in need of a budget digital piano
Comes with some of the best tones in the price range
Scaled Hammer Action
The textured keys offer a great feel
A varied set of tones
The Runner-Up (#2)
Image
What I like
Way more affordable than the PX-770
Easy to use
Comes with the basic piano tones
Lesson mode
Chorus and reverb effects
Last update on 2023-11-25 / Affiliate links / Images from Amazon Product Advertising API
Casio PX-770 vs Korg B2SP: A Head to Head Comparison
There were three main categories that I used to compare these pianos – tone, feel, and the piano features. These are the most important general characteristics of any digital piano and is a great way to figure out which model would be the best for you.
By the end of this comparison, the score was 3-1 in favor of the Casio PX-770. With more realistic tones and a premium feel, it was hard for the Korg B2SP to compete. But as you'll learn below, the comparison is a bit closer than things might initially seem.
Tone
The winner: Casio PX-770
The first characteristic of the two pianos that I compared was the tone. In my opinion, this should always be the first feature to check out, as you always want a digital piano that sounds good. And because of its better sound library and tone generator, the Casio PX-770 took the point in this comparison.
+Tone Generator
Before I get into the Casio's tone generator, it's worth mentioning that the Korg B2SP has a very good tone generator itself. It uses the Stereo PCM tone generator, which relies on high-quality pre-recorded stereo samples of various instruments. When you press a key on the piano, you trigger one of these samples. And compared to other pianos in its price range, the Korg produces much more realistic and detailed voices.
That said, it still couldn't compete with the AiR generator on the Casio. This is because the AiR tone engine, aside from relying on samples, emulates the way sound waves from a real piano travel through the air. This is why you get a very distinct brightness and realism when playing the Casio that you won't find in the sub-$1,000 price range.
So, if you're looking for the best tone quality possible, I recommend the Casio. While it's a bit more expensive, rest assured that the extra investment will be more than worth it in the long run.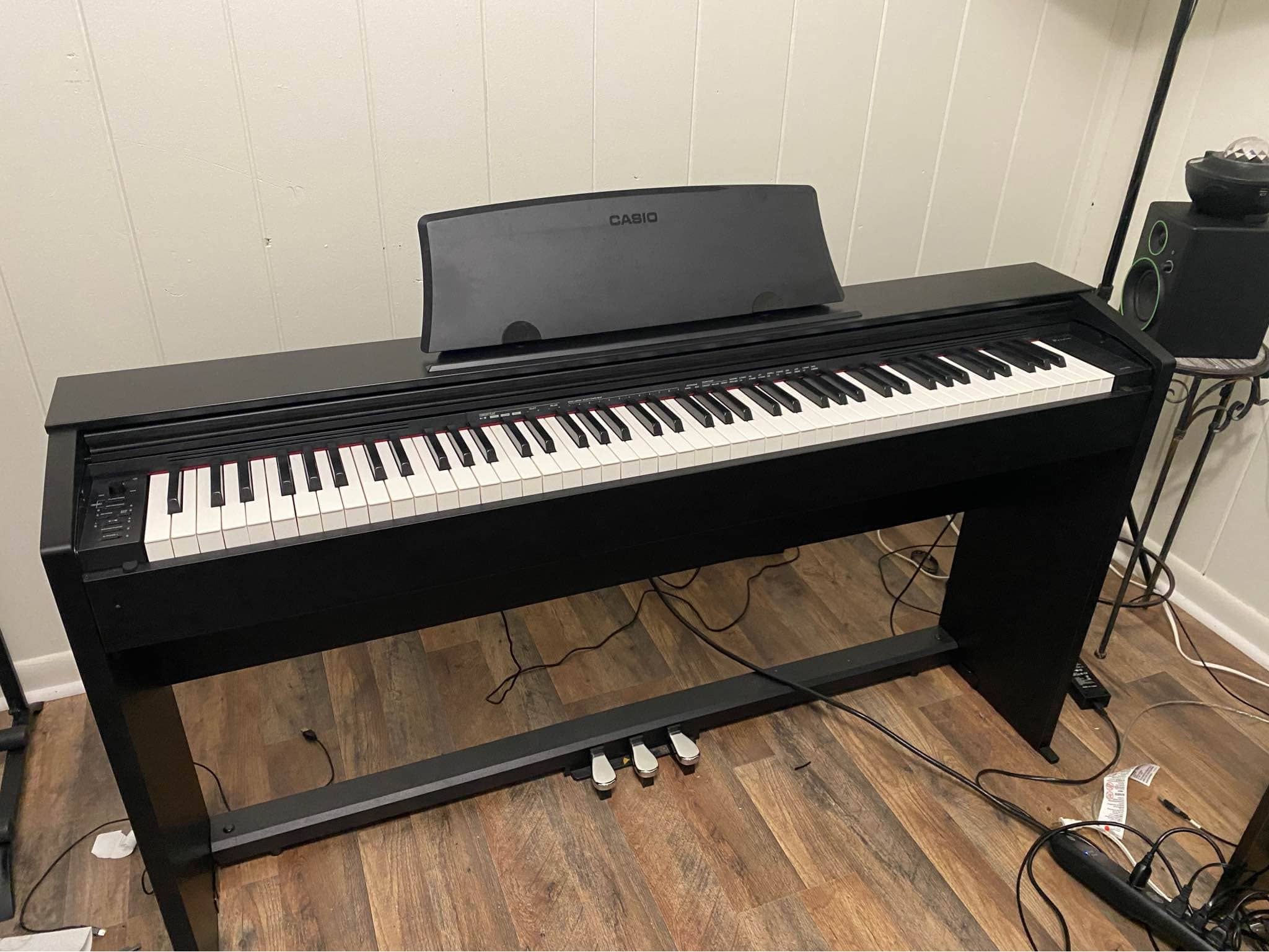 +Sound Library
The Casio also wins out when you compare their sound libraries. Like all digital pianos, both of these models don't have the widest sound libraries. However, you definitely get more variety with the Casio as it has 19 voices, which is much more than the 12 voices you'll find on the Korg.
While both sound libraries cover the same types of sounds such as electric and acoustic pianos, strings, bass, and organ voices, you have more choices with the Casio. So, if you want full control over your tone and want to explore various musical styles, you'll be better off with the Casio.
Feel
The winner: Casio PX-770
Another reason the Casio PX-770 won this comparison was because of the superior piano feel. When playing the Casio PX-770, it felt much more realistic than the Korg B2SP, which is expected since it's more expensive. This is why if you want a piano that feels as close as possible to an acoustic piano, the Casio PX-770 is worth the extra cost.
+Hammer Action
The Casio model uses the brand's Smart Scaled Hammer Action system. With this system, you capture the slight weight differences that you feel on the keys of an acoustic piano. This is very important as you can obviously tell that a piano is digital if it has a uniform weight on the keys.
While the Korg's Natural Weighted Hammer Action looks to replicate this feel as well, it's evident that it doesn't do as good of a job. There was something about the Korg's feel that made it obvious that I was playing a digital piano. And while it was still more realistic than many other digital models, it didn't compete with the Casio PX-770.
On top of that, the Casio features a set of textured keys. So, not only does it capture the weight of an acoustic piano, but it makes you forget that you're pressing plastic keys. It would have been nice to see real wooden keys on the piano as well, but that would probably cause the price to skyrocket.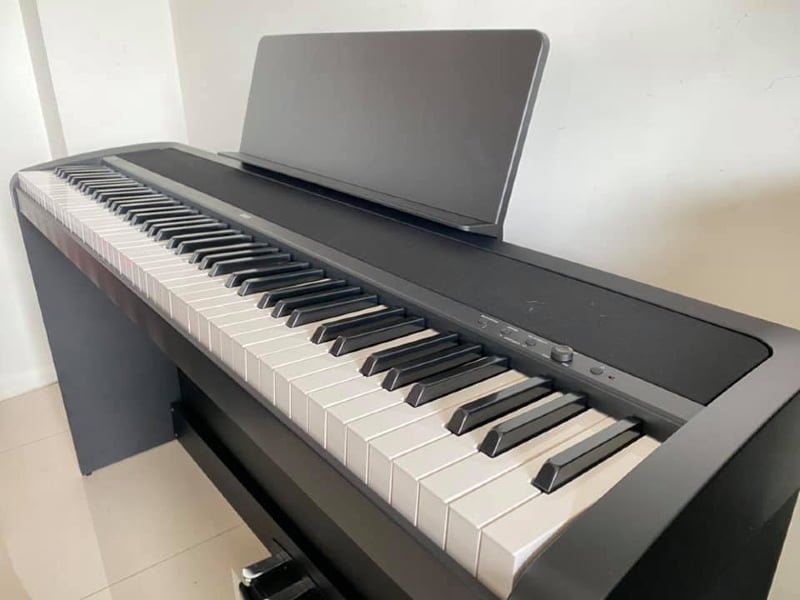 Piano Features
The winner: Tie
The last comparison point I had between the two pianos were the piano features. Particularly, I looked at the polyphony and playing modes of both instruments. While they excelled in terms of polyphony, both pianos were lacking in playing modes. Because of this, I ended up awarding the point to both instruments.
+Polyphony
Both of these pianos feature 128-note polyphony. This means that the instruments can play up to 128 notes at the same time. While you won't be required to play that many notes when reading sheet music, it comes in handy when you want to add emotion to your playing with the sustain pedal.
With lower polyphony, the pianos wouldn't sustain the notes as long. However, since both pianos come with 128-note polyphony, you can easily play dense chords and long stretches with the sustain pedal engaged.
+Playing Modes
One of my only qualms with both pianos is that they don't have the best set of playing modes. Ideally, digital pianos should come with various playing modes to give you flexibility. That said, neither of these pianos comes with the playing modes you'd expect to form a digital piano, which is a huge letdown.
The only additional mode you get with both instruments is lesson mode. This is great for piano duets and lessons as you get to divide the keyboard into two mini pianos. While this is useful, it would have been even better to see more playing modes on these instruments.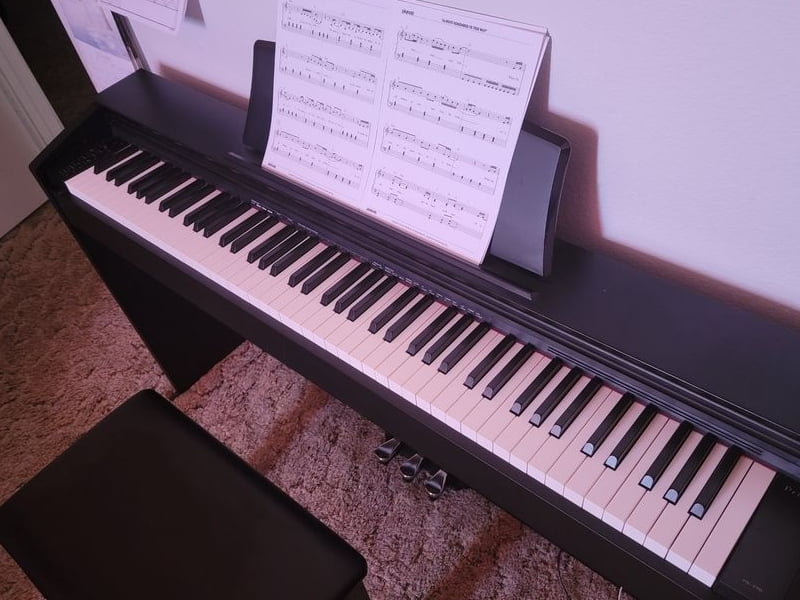 Casio PX-770 vs Korg B2SP: The Similarities
While they come from different brands, these pianos share some similarities. For example, they are both console instruments. This means that you won't be able to bring them around as they are designed to stay in one place for a long time. However, the trade-off is that you get a much better sound and more realistic feel, and you get an instrument that can serve as a home piano.
Another major similarity is that both pianos come with basic piano effects. So, you can add both chorus and reverb effects to your playing, giving you more control over your tone. Granted, the effects could have been done better, but the fact that these budget-friendly pianos even have effects is worth mentioning.
Quick Rundown of the Casio PX-770
Casio PX-770 WH Privia Digital Home Piano, White
The AiR engine provides highly-accurate grand piano sounds with seamless dynamics for a remarkably expressive and powerful performance
The Tri-Sensor Scaled Hammer Action II keyboard has an incredible feel and captures the dynamics of a performance with unparalleled speed and accuracy
Includes a powerful stereo amplification system offering an optimal listening experience that is crystal-clear across the entire audio spectrum
Duet Mode splits the piano into two equal pitch ranges, allowing a student and teacher to sit at the same instrument
Concert Play allows you to play along with ten recordings of well-known orchestral pieces
Last update on 2023-11-25 / Affiliate links / Images from Amazon Product Advertising API
Quick Rundown of the Korg B2
KORG B2SP 88-Key Digital Piano with Stand with 3 Pedal Unit Bundle with Bench, Music Light and Piano Book/CD (4 Items)
Bundle Includes: KORG B2SP 88-Key Natural Weighted Hammer Action Digital Piano with Stand and Three-Pedal Unit, Furniture Style Flip-Top Piano Bench (Black), Rechargeable Music Light (Black), and Piano Learning and Playing Book (with CD)
Sound Engine: The B2 provides a total of 12 sounds that cover a diverse range of genres, starting with five pristine piano sounds from its new piano engine, and also providing richly distinctive electric piano, organ, harpsichord, and strings. In addition to capturing the enormous tonal range of a grand piano, the meticulously-sampled sounds created for the B2 Digital Piano also reproduce the sympathetic string vibrations and damper resonances that give the piano its character
German Piano Sounds: This world-famous German-made piano is beloved by countless pianists for its diverse range of expressive power. With stunning sonic dynamism and vibrance, its palette ranges from brilliant highs to chillingly detailed lows. The provided sounds include the majestic German concert piano and a Classic piano noted for its delicate and complex tone
Italian Piano Sounds: An Italian-made piano with beautifully bright expression and satisfying sustain. Pianists around the world are enraptured by its rich resonance and sensitive responsiveness. The sounds provided are Italian concert piano, a bright-toned Jazz piano, and a beautifully resonant Ballad piano
Electric Piano Sounds: An e-piano reproduces the differences in tone that arise from your playing dynamics and even simulates the sound of a key-off. Conjure electric piano sounds that are instantly recognizable from decades of great music
Last update on 2023-11-25 / Affiliate links / Images from Amazon Product Advertising API
Product Video
Related Articles to Casio Px 770
References:

Lulacruza is an electronic folk duo operating at the junction of the hypermodern and the ancient. Our music weaves together hypnotic female singing, South American folk instruments and electronic processing, while channeling pulsating waves from the source of creation.
Lalucruza is also a community where you can connect with other music lovers to collaborate, exchange ideas and share knowledge. A platform for who wants to learns the basics of playing piano, guitar, drum masters' technique, etc.. is the premise of our website.