When it comes to digital pianos for beginners, the two most reliable brands most people go for are Yamaha and Roland. The former's P45 and the latter's FP10, both impressive considering their price points, are almost identical at first glance and quick listen-in and have nearly equal offerings.
But after taking a deep dive into these two and giving both a try side by side, Roland FP 10 has features that Yamaha P45 does not have. These make the former the better choice, albeit just a tiny bit. 
Get to know more about these two and see which suits you better. 
Yamaha P45 vs Roland FP10: Comparison Chart
Image
The Winner (#1)
The Runner-up (#2)
Hammer action
Progresssive hammer action
Yamaha GHS (Graded Hammer System)
Effects
Reverb (4 different types)
What I like
Progressive Hammer Action feels authentic, mimics escapement
Keys feel like real ivory and ebony
Makes use of tone generator found in more expensive models
Has layering and lesson capabilities
Better connectivity
Piano Partner 2 app is incredibly helpful
Quite realistic with Graded Hammer System (GHS)
Awesome sounds thanks to high quality tone generator
Comes with four reverb options
Has layering and lesson capabilities
Portable
The Winner (#1)
Image
Hammer action
Progresssive hammer action
What I like
Progressive Hammer Action feels authentic, mimics escapement
Keys feel like real ivory and ebony
Makes use of tone generator found in more expensive models
Has layering and lesson capabilities
Better connectivity
Piano Partner 2 app is incredibly helpful
The Runner-up (#2)
Image
Hammer action
Yamaha GHS (Graded Hammer System)
Effects
Reverb (4 different types)
What I like
Quite realistic with Graded Hammer System (GHS)
Awesome sounds thanks to high quality tone generator
Comes with four reverb options
Has layering and lesson capabilities
Portable
Last update on 2022-07-04 / Affiliate links / Images from Amazon Product Advertising API
Yamaha P45 vs Roland FP10: The Differences
There is no doubt that Yamaha and Roland are the titans of entry-level digital pianos, so first-time buyers often end up choosing between the two. The question now, of course, is which of these specific options is more deserving?
Admittedly, choosing musical instruments is subjective, boiling down to which the user falls in love. I have always admired Yamaha pieces because of their overall simplicity and the undeniable high quality of the sound. Some would disagree with me and go for Roland just because they like how it looks or how user-friendly the buttons are.
But if you really want to get the best, it will do you well to understand some of the technicalities.
As aforementioned, the P45 and the FP10 are practically the same, from the 88 keys on each, their affordable price points, and their substantial stature (size and weight). I had to look under the hood, so to say, to find out which comes out on top.
Based on my comparison, it's a 2-1 rating in favor of Roland FP10, thanks to its slightly better feel and tone boosted by top-notch tech. Again, it's a tiny edge. It is an edge nonetheless. 
Feel
The winner: Tie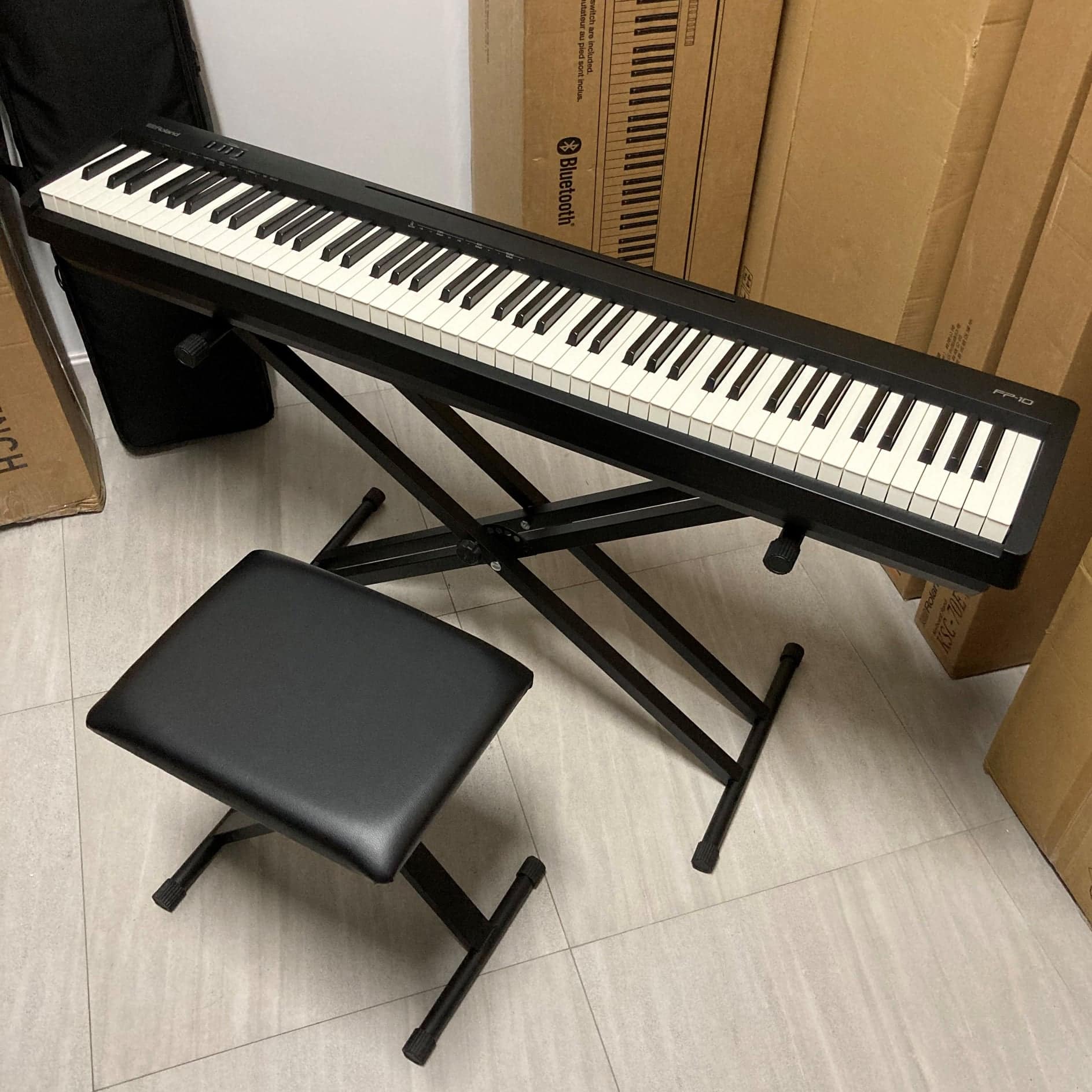 If I were to nitpick, the FP10 wins ever so slightly, mainly because of the texture of the keys. But because I was amazed that both of these digital pianos felt substantial and weighted under my fingers, I would have to rate them essentially the same in this particular aspect.
There is a minimal adjustment when playing on either of the two and then shifting to the acoustic ones. This practice is something that newbies will find highly advantageous in the long run.
+ Hammer Action 
Outfitted with Yamaha's proprietary GHS (Graded Hammer System), the P45 is not flimsy like other entry-level digital pianos. The keys feel solid, just like acoustic pianos because the GHS simulates the weightedness of the keys from the heavier bass on the left to the lighter trebles on the right.
Roland FP10 may not have the GHS, but it is equipped with Progressive Hammer Action (PHA4 Standard, precisely), giving it the same acoustic feel – heaviest on the left and lightest on the right.
A nifty addition to the Roland is the escapement feature which mimics the real thing with strings. When hitting the keys, one can hear the louder mechanics, even when the piano is turned off.
+ Key Texture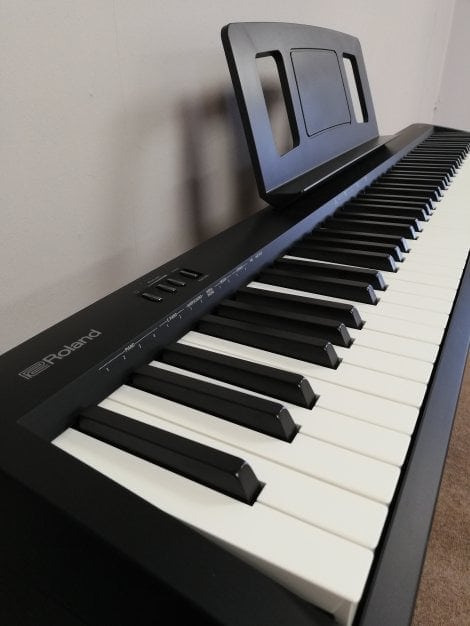 As aforementioned, this is where Roland came up with something better than Yamaha.
The former's keys are made of plastic but coated with a material that mimics the texture of ivory on the whites and ebony on the blacks. It is such a pleasant surprise feeling that this interesting texture adds to that realistic feeling of playing an acoustic piano.
The latter's keys are also made of polished plastic, expected of beginner's instruments. Yamaha did try by adding microtexture to the black keys, which works well enough for me since that is expected of its price. The smoothness of the plastic does stand out as not appealing at all, especially when compared side by side against the FP10. And to be honest, this won't do for some who are looking for that bit of grit under their fingers.
Tone
The Winner: Roland FP10
The Yamaha P45 and Roland FP10, to unseasoned ears, sound precisely the same: suitably full and clear for entry-level digital pianos. Admittedly, both do sound better on headphones than their onboard speakers, but all in all, many experts rate the tonal experience on the two as adequate.
Now, I can't say this often enough: Tone is the element that overrides all the other aspects of an instrument. This feature is the one I take note of and scrutinize. After my close examination of the two, Roland FP10 is a cut above its Yamaha competitor.
+ Tone Generation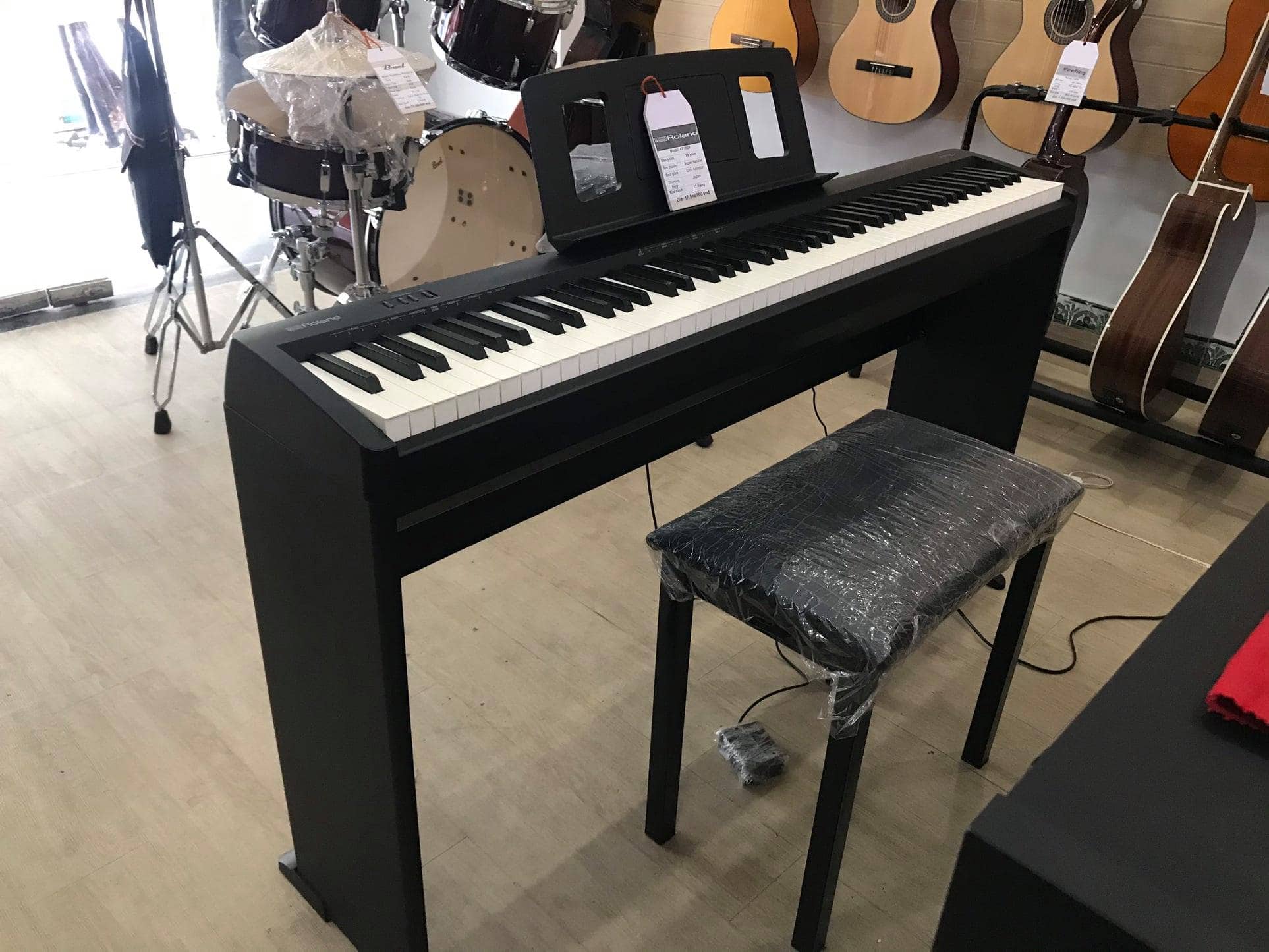 Basic Yamahas make use of the AWM (Advanced Wave Memory), which has been lauded as a great way to produce first-rate voices – so simple, but it renders very well. The natural decay of their samples is also an excellent feature that many people – both amateurs and professionals – truly love about Yamaha.
Roland FP10's pride is the SuperNATURAL sound, which essentially samples all 88 keys using the best instruments. The system is quite a surprise and a wonderful treat because the SuperNATURAL tone generator is found in the more expensive Roland models. Like the Yamaha, this also has natural decay, which is a plus.
In this regard, the two digital pianos in question are at par even when they use entirely different systems. It is good to know that the companies put a lot of thought into how the sound should come out.
+ Sound Library 
As expected of more humble models, the P45 and FP10 have a small number of voices in their arsenal.
Yamaha has ten, including two grand pianos, two electric pianos, and several other strings. The number of voices may seem limiting for some, but it's a good enough collection, all of which are pretty good in quality.
Roland has a bit more with 15, highlighting four different acoustic pianos. The differences in those four are pretty subtle but an absolute delight for accomplished practitioners considering the instrument's affordability.
The tones and samples are beefier, and the slightly higher quality is undeniable. The point would go to Roland's FP10.
+ Effects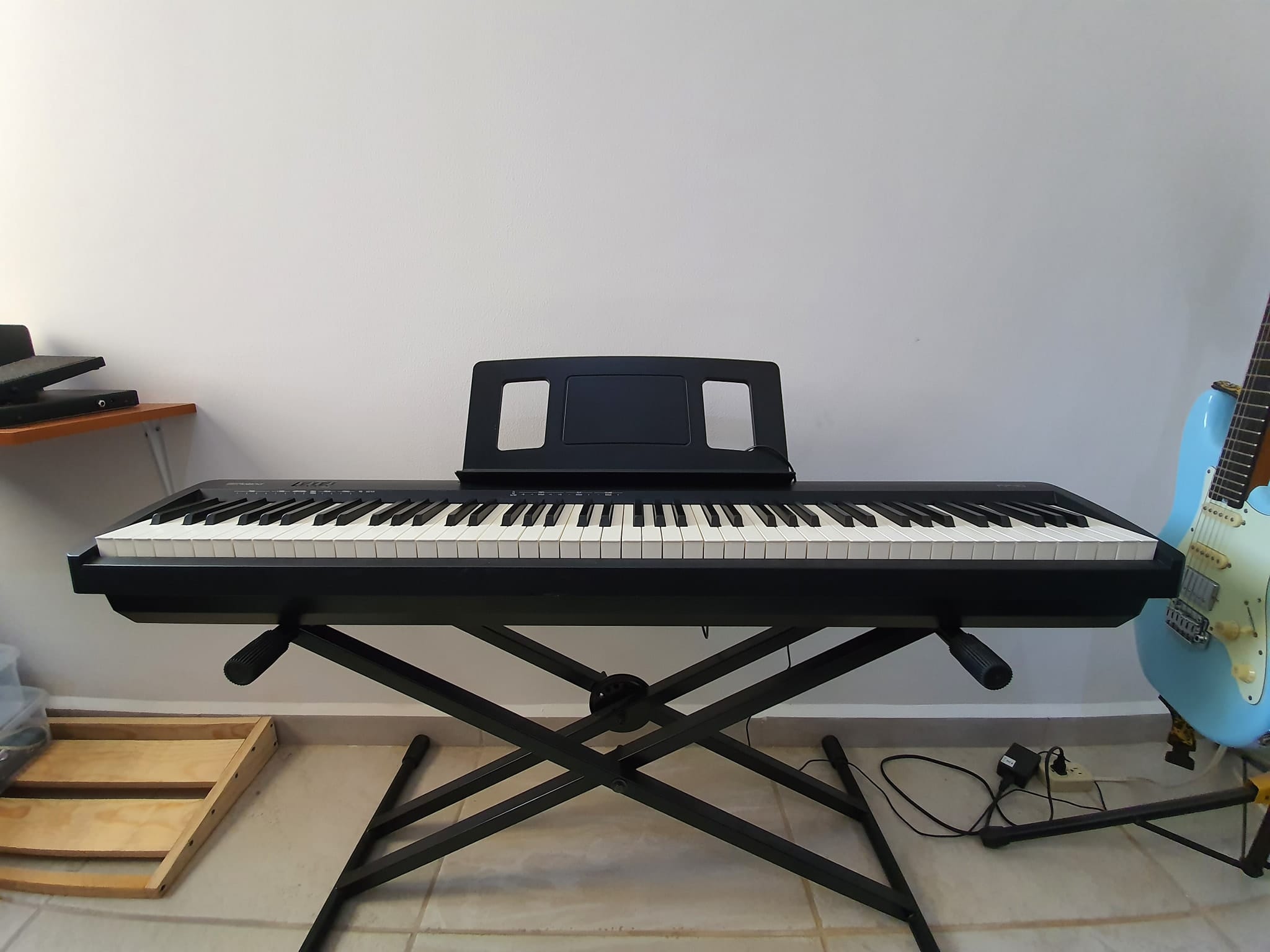 The P45 of Yamaha boasts four different kinds of reverb, all adjustable to one's preferences, which is incredible as it adds to the realism of the instrument. For a low-cost model, Yamaha does not disappoint in this regard.
The FP10 of Roland, on the other hand, has what they call ambience, brilliance, and presence.
Brilliance is the contrast and definition of each note, while presence refers to the amount of treble in the note. To be perfectly frank, ambience could be another way Roland would like to market reverb. This particular effect feels the same as this points to the way music would sound in a specific place.
Connecting to the Roland PP2 app is quite a revelation as their digital pianos offer a lot more for users in terms of effects besides what was mentioned above. This is a massive win over the P45, which is already quite impressive.
Piano Features
The winner: Roland FP10
The two digital pianos are, yet again, on the same footing with some points under this chapter. However, tech takes the Roland FP10 several steps ahead of the Yamaha P45.
+ Polyphony 
Even for their cost, these two are underwhelming with their polyphony numbers – 96 for the Roland and 64 for the Yamaha. Their 88-key contemporaries have over a hundred at this point. Although first-timers wouldn't need a lot for basic lessons, it's a handy option, making the FP10 a slightly better choice.
+ Connectivity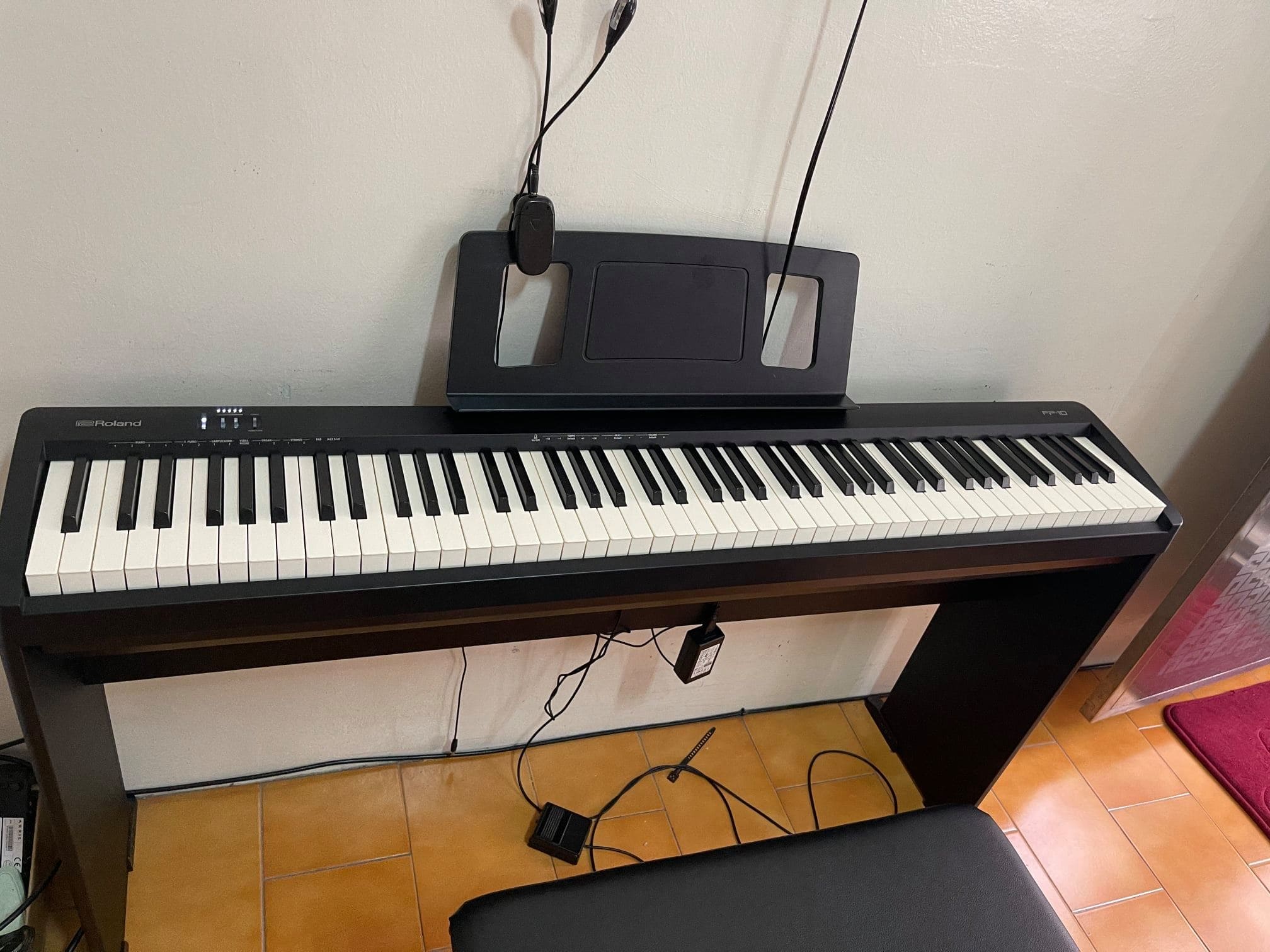 This aspect is where Roland takes the cake. Other devices can connect to the P45 via a USB port. It also has separate ports for the headphones (¼") and the sustain pedal. On the other hand, the FP10 has a USB connection and Bluetooth capability on top of the usual jacks (⅛" for headphones) provided.
The Bluetooth connectivity is quite helpful since the instrument can be aided by the Piano Partner 2, an app that gives users access to more sounds and nifty capabilities like manipulating the piano lid, string resonance, damper resonance, and many more. It is especially beneficial for learning pianists as it tracks all activities done on the instrument.
+ Split, Dual, and Twin Mode 
These two digital pianos feature the dual and twin mode. The first means that the piano plays two different voices, say a flute and a guitar when a key is pressed. The second refers to dividing the 88 keys right in the middle so that there are two 44-keys for lessons – one for the instructor and the other for the student. On the Roland, this can be activated via the app. The split mode is not available on the two.
+ Recording Capability 
The P45 and the FP10 cannot record and playback music per se, although this can be done using a separate software connected through the USB for the former and the PP2 app for the latter.
+ Sound System
Both have two 6-watt speakers, which are adequate for solo practice. Unfortunately, it is not that loud with other accompaniments, especially during band practices. It also doesn't help that Roland's speakers are under the piano. Using the headphones is better since it delivers greater clarity than the onboard speakers.
Yamaha P45 vs Roland FP10: The Similarities
It has been articulated several times in this commentary, and not to mention by many other reviewers that these two digital pianos are almost identical:
Both are pretty affordable, which makes these immediate options for beginners. And while I had low expectations, in the beginning, these are more than just adequate for entry-level digital pianos especially after playing a few tunes on both.
These two are physically similar for starters: 88 keys in a no-frills boxy black case, comes with the essential accessories (plastic stand and a basic pedal), and reasonably light at 25 pounds.
But the two most important features these two share are the hammer action and the tone generation. Granted, the specific system each has is different, but the effect is the same.
The GHS (Graded Hammer System) on the P45 and the PHA (Progressive Hammer Action) on the FP10 lets newbies feel like they are playing on a heavier, pricier acoustic piano. The tone generators are also high-quality, giving clear sounds, so practicing these won't feel artificial.
Despite their enormous similarities, tiny details separate one from the other. And when all these are added up, Yamaha kind of falls short. It still is a good digital piano, don't get me wrong. But all in all, the tech on the Roland is much more advanced, making it more enjoyable to play. 
Quick Rundown Of the Roland FP10
Roland FP-10 88-key Entry Level Digital Keyboard with Bluetooth
Rich, responsive tone from Roland renowned supernatural piano sound engine
88-Key hammer-action with progressively weighted piano touch for maximum expression
Bluetooth MIDI for wireless connection to popular apps for Education, creativity, and enjoyment on your mobile device
Roland free piano Partner 2 app provides remote control and added functionality for the FP-10
Usb MIDI for one-cable connection to computers or mobile devices
Last update on 2022-07-04 / Affiliate links / Images from Amazon Product Advertising API
Quick Rundown Of the Yamaha P45
Yamaha P45 88-Key Weighted Digital Piano
Includes the P45 Digital Piano, power adapter, sustain pedal and music rest
88 fully weighted piano style keys simulate the feel of an acoustic piano and provide a quality playing experience
GHS weighted action is heavier in the low end and lighter in the high end, just like an acoustic piano
Contains 10 different voices, including digitally sampled tones from real Yamaha acoustic grand pianos
Dual mode lets you combine 2 voices together, like piano and strings, for an inspiring new playing experience. Tuning- 414.8 - 440.0 - 446.8 Hz
Last update on 2022-07-03 / Affiliate links / Images from Amazon Product Advertising API
Product Videos
Related Articles to Roland Fp10
Related Articles to Yamaha P45
References:

Lulacruza is an electronic folk duo operating at the junction of the hypermodern and the ancient. Our music weaves together hypnotic female singing, South American folk instruments and electronic processing, while channeling pulsating waves from the source of creation.
Lalucruza is also a community where you can connect with other music lovers to collaborate, exchange ideas and share knowledge. A platform for who wants to learns the basics of playing piano, guitar, drum masters' technique, etc.. is the premise of our website.