Find out which entry-level piano is best for you in this Yamaha P60 vs P45 comparison.
Portable digital pianos are great options for any pianist. And if you're a beginner or a pianist shopping on a budget, chances are you've seen the Yamaha P60 and the Yamaha P45. These are two of their most popular entry-level digital pianos that far exceed the expectations of their price range.
Since these two options are usually mentioned in the same breath, I decided to do an in-depth comparison of the pianos. And after many tests and in-depth research, I found that the Yamaha P45 is the better piano.
Don't get me wrong; the Yamaha P60 is a great option. In fact, it held its own against the P45 in almost every category. But since the P45 is the more modern option and comes with a more versatile feature set, I couldn't help but declare it the winner.
In this Yamaha P60 vs P45 review, I'll be comparing these two pianos in full detail. That way, you can easily figure out which piano is better fit for your needs!
Yamaha P60vs P45: Comparison Chart
Image
The Winner (#1)
The Runner-Up (#2)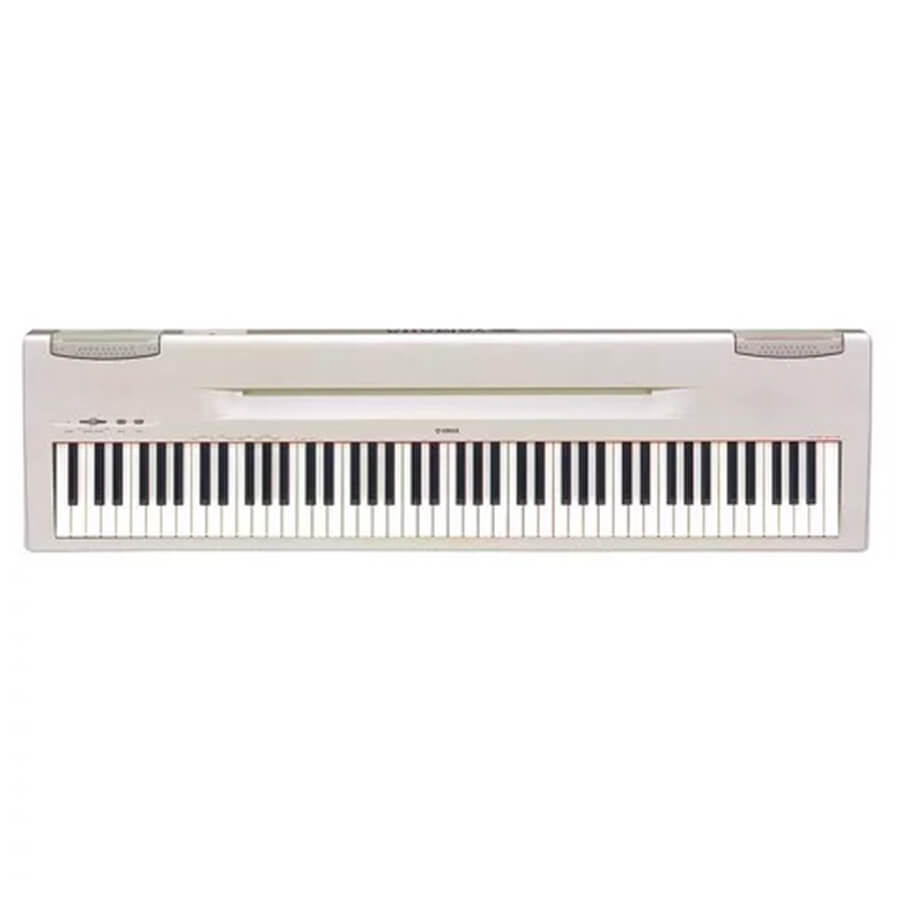 Hammer action
Yamaha Graded Hammer Standard (GHS)
What I like
Affordable
Great sound quality
Decent sound library
Various playing modes
Realistic hammer action
Decent sound quality
Decent sound library
Great hammer action
Portable
Ideal for beginners
The Winner (#1)
Image
Hammer action
Yamaha Graded Hammer Standard (GHS)
What I like
Affordable
Great sound quality
Decent sound library
Various playing modes
Realistic hammer action
The Runner-Up (#2)
Image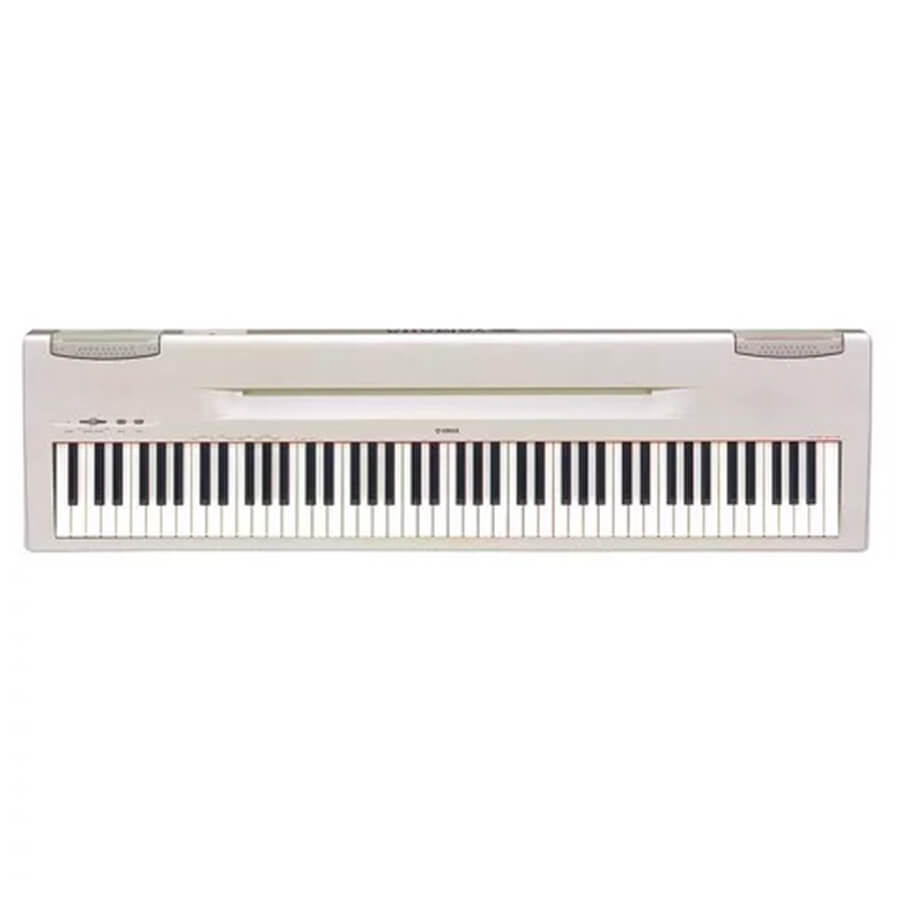 What I like
Decent sound quality
Decent sound library
Great hammer action
Portable
Ideal for beginners
Last update on 2023-12-01 / Affiliate links / Images from Amazon Product Advertising API
Yamaha P60vs P45: The Features
The best way to compare two digital pianos is to look at the features. And when comparing the features of the P60 and P45 against each other, the P60 ultimately came out on top with a score of 3-2.
As you can tell by the score, these two pianos put up a close fight. In fact, I found that both instruments share various features that make them much better than other options in their price range. But in the end, the modern features and versatility of the P45 made this piano the winner.
In this section, I'll show you how each piano performed when compared to the other. That way, you'll learn the various pros and cons of each piano and which one serves your needs the best.
Tone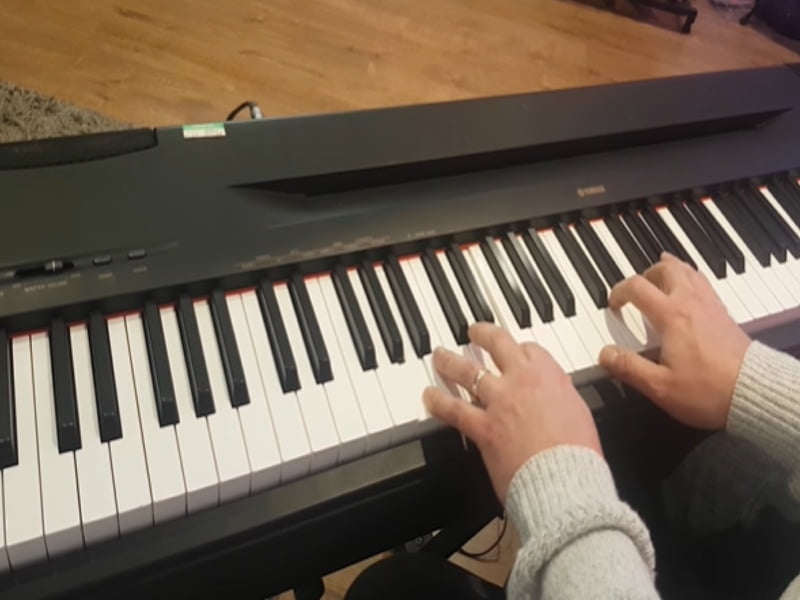 The winner: Tie
Tone is one of the most important features of a digital piano. You always want to prioritize tone when shopping for digital pianos, especially if you're particular about how the piano sounds.
Both of these pianos use the same tone engine and have a similar sound library. And even if the P45 has a slight advantage because it's a newer model, it wasn't enough to put it over the P60. So, both of the pianos are tied in this aspect.
+Sound Library
Both pianos offer a range of acoustic and electric pianos, strings, organ, and bass tones. That way, you can easily switch voices depending on the musical style you're playing. These pianos have slightly more variety than other pianos in their price range, which is something you'd expect from Yamaha.
I was prepared to have a limited sound library for both of these pianos. This is because portable digital pianos tend to prioritize quality over quantity. So, it was no surprise when I learned that both of these pianos only come with ten different piano voices. This is still a lot for a digital piano, but it would have been nice to have more voice options.
However, I couldn't help but think that the options on either piano are fairly limited. So, while this isn't a deal-breaker, don't expect the widest sound library if you opt for either of these pianos.
+Tone Generation
One area where I found both of these pianos excelled was the sound quality. If you're on a budget and want to find a digital piano with rich tones, the P45 and the P60 easily beat out other options in their price range.
Why?
Well, it's because of the Yamaha Advanced Wave Memory or AWM tone generator you can find on both pianos. These pianos are loaded with top-quality samples and recordings of real instruments. And whenever you press down on a key, it plays the samples.
The reason these pianos are better than many others in their price range is the quality of their samples. Yamaha loaded the pianos with more memory, allowing them to store much more data than others in its price range. This is why the P60 and the P45 produce incredibly bright and vibrant tones that sound very close to the real thing.
That said, the tone generation on these pianos still isn't as good as the Pure CF or CFX sound engine on more premium pianos. But when you look at the price tags of each model, you'll find that they offer a lot of value for the money.
Feel & Playability
The winner: Tie
Another very important factor to consider when buying a digital piano is the feel. Ideally, the pianos should replicate the feel of playing an acoustic piano. And as expected from Yamaha, both of these models do a great job of replicating the weight you feel on a digital piano.
However, since these are entry-level options, they are lacking in key texture. This removes some of the realism you'd expect when playing a digital piano, but it's not surprising considering their price. Keep reading to learn more details about how the Yamaha P60 and P45 feel.
+Hammer Action
One of the premier features of any Yamaha digital piano is the hammer action. These specific models use the Graded Hammer Standard or GHS system. This is a staple for Yamaha pianos in around this price range.
The main difference between the GHS system and other types of hammer action in this price range is the detail. When you play a real acoustic piano, the bass keys are heavier than the high keys. This is what gives an acoustic that specific feel and something that many other digital hammer action systems miss.
When you play Yamaha pianos with GHS, like the P60 and P45, you get that subtle difference in weight that you need in a digital piano. These pianos have a very realistic weight to them and were one of my favorite things about either model.
So, if you're particular about how a piano feels and you need a piano with realistic hammer action, both the P60 and P45 do a great job.
+Key Texture
The key texture is one of the biggest complaints I have with both of these pianos. While the hammer action is very realistic, I cannot say the same about the key texture. This is because both of the pianos come with glossy plastic keys that don't offer the best feel.
When I tried out the pianos, I noticed that the keys felt a bit slippery, especially since I'm used to the texture of a real acoustic piano. This was a huge letdown as it took away much of the realism from playing these pianos.
That said, adding a textured coating to the keys or using real wooden keys can be expensive. So, Yamaha had to keep the glossy keys on these pianos to ensure that they remained affordable and accessible to beginners.
Most beginners won't notice the slight difference in key texture. But if you're an experienced pianist, the glossy and slippery feel of the keys might throw you off a bit.
Piano Features
The winner: Yamaha P45
The last comparison point I had between these two pianos was the piano features. Up until this point, the piano was tied. However, since the P45 has a more versatile feature set than the P60, it claimed the last point and won the entire comparison.
The reason the P45 took this category's point is that it has various playing modes, a cool set of effects, and a greater maximum polyphony. These are relatively small details, but they made the Yamaha P45 much more flexible than the P60.
+Playing Modes
Let's start with the playing modes. The Yamaha P45 comes with dual and duo (lesson) modes. These are very useful modes for beginners as it allows room for experimentation while also making it easy to use one piano during lessons and classes.
With dual mode, you can blend two voices together. This allows you to blend a piano and strings voice, organ and bass, or any combination of the ten voices on the P45. This is a very fun feature that's also really useful when playing live or accompanying a vocalist.
Duo mode, as the name suggests, is designed for duets. This mode divides the piano into two smaller keyboards with the same voice. This means you and another pianist can play a piece simultaneously and what the same sounds.
The Yamaha P60, on the other hand, only comes with duo mode. This is still a very useful mode, making it great for beginners and piano students. However, it would've been nice to see dual mode on this piano for that extra layer of versatility.
+Effects
These pianos don't offer much when it comes to effects. They both only have a built-in reverb effect. But even if they only have one effect, Yamaha decided to load the pianos with the most useful effect for any pianist.
While reverb won't completely change the piano's sound, it adds a lot of depth and character. So, you can add more room to your sound, which is perfect for heavier pieces.
That said, it would be nice if these pianos had effects like chorus, EQ, damper resonance, and other common piano and organ effects.
+Polyphony
Another area where the Yamaha P45 won was polyphony. Polyphony in digital pianos refers to the number of notes or samples the piano can play simultaneously. The higher the polyphony, the better, as you always want to ensure that the piano can play notes simultaneously with a lot of clarity.
The Yamaha P60 has a 32-note maximum polyphony. This is very minimal by today's standards. In the past, 32-note polyphony was considered decent as the technology was in its earlier stages. But nowadays, most pianos come with way more polyphony, so I think the P60 is a bit behind the times.
The P45 comes with 64-note maximum polyphony. This still isn't the best or highest rating, but it's better than the P45. This is very important since the P45 comes with features that combine different voices, meaning it will have to play more sounds simultaneously.
This makes the P45 a much more versatile option. Even if it doesn't have the very high polyphony ratings you'll find on more expensive pianos, it's more than enough to get the job done, especially for beginners.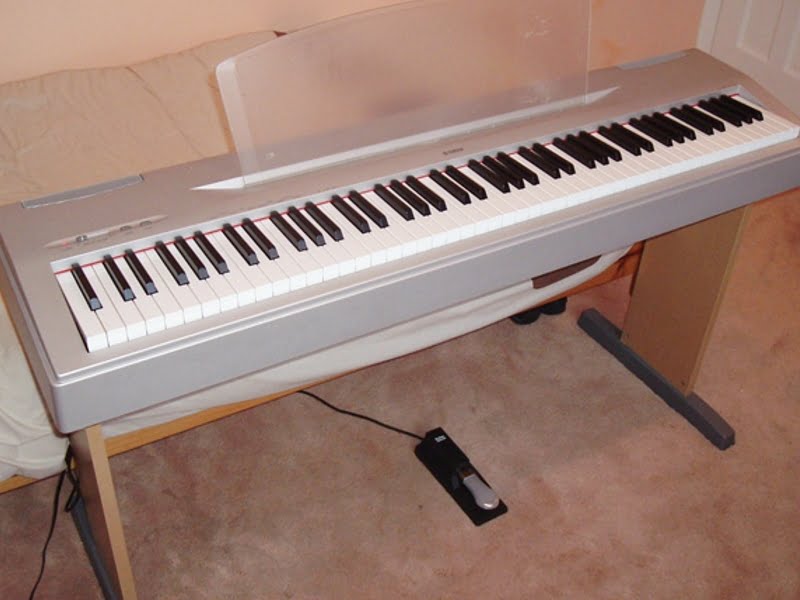 Yamaha P60 vs P45: The Similarities
These are very similar pianos. They come from the same product line and brand. So, you can expect both of them to be reliable, affordable, and ideal for beginner pianists. In fact, these pianos come with many of the same features.
For example, they use the same tone generator and hammer action system. On top of that, they have the exact same key texture and sound library. When testing these pianos, I actually found that they have more similarities than differences.
Aside from the polyphony and the playing modes, these pianos are exactly the same. That said, the slight difference in polyphony and playing modes makes a huge difference. This is why I think that the Yamaha P45 offers more value for the money than the P60.
On top of that, the P60 is not in regular circulation anymore so it may be a bit harder to find than the P45. So, in terms of accesibltiy and flexibility, the Yamaha P45 easily wins over the Yamaha P60.
Quick Rundown of the Yamaha P45
Sale
Yamaha P45 88-Key Weighted Digital Piano
Includes the P45 Digital Piano, power adapter, sustain pedal and music rest
88 fully weighted piano style keys simulate the feel of an acoustic piano and provide a quality playing experience
GHS weighted action is heavier in the low end and lighter in the high end, just like an acoustic piano
Contains 10 different voices, including digitally sampled tones from real Yamaha acoustic grand pianos
Dual mode lets you combine 2 voices together, like piano and strings, for an inspiring new playing experience. Tuning- 414.8 - 440.0 - 446.8 Hz
Last update on 2023-12-01 / Affiliate links / Images from Amazon Product Advertising API
Quick Rundown of the Yamaha P60
Product Videos
Related Articles to Yamaha P45
References:

Lulacruza is an electronic folk duo operating at the junction of the hypermodern and the ancient. Our music weaves together hypnotic female singing, South American folk instruments and electronic processing, while channeling pulsating waves from the source of creation.
Lalucruza is also a community where you can connect with other music lovers to collaborate, exchange ideas and share knowledge. A platform for who wants to learns the basics of playing piano, guitar, drum masters' technique, etc.. is the premise of our website.