Resolving the long-standing Yamaha P45 Vs Korg B2 battle is no easy feat, but after careful assessment of the two, the simple efficiency of the P45 shines through.
Beginners won't have any trouble looking for a low-cost digital piano that simulates a high-quality upright acoustic or, to a certain extent, even a concert grand these days. Two of the most complimented in this category are Yamaha's P45 and Korg's B2.
Yamaha has always been a reliable producer since its inception in 1898. And the P45, released in 2015, is evidence of their century-old craftsmanship. Although Korg is a relatively younger company, established only in the 1960s, it has also created award-winning pieces. The B2, despite it undergoing several changes and ending up with several varieties, is also a good enough entry-level digital piano.
But when every single detail is considered in the Yamaha P45 Vs Korg B2 face-off, the P45 comes out on top. To get to know more about these technicalities, please continue reading.
Yamaha P45 vs Korg B2: Comparison Chart
Image
The Winner (#1)
The Runner-up (#2)
What I like
Graded Hammer System reproduces an acoustic grand's feel
Simple but effective AWM Stereo Sampling sound engine
Usable playing modes are helpful for beginners
Smart Pianist app connects via USB
Natural Weight Hammer Action mimics acoustic piano's feel
Features 12 very specific voices, five of which are grand piano
Aside from Reverb, Chorus effect is added
128-count polyphony - great addition for its price
One of the most affordable 88-keys digital pianos
The Winner (#1)
Image
What I like
Graded Hammer System reproduces an acoustic grand's feel
Simple but effective AWM Stereo Sampling sound engine
Usable playing modes are helpful for beginners
Smart Pianist app connects via USB
The Runner-up (#2)
Image
What I like
Natural Weight Hammer Action mimics acoustic piano's feel
Features 12 very specific voices, five of which are grand piano
Aside from Reverb, Chorus effect is added
128-count polyphony - great addition for its price
One of the most affordable 88-keys digital pianos
Last update on 2023-09-17 / Affiliate links / Images from Amazon Product Advertising API
Yamaha P45 vs Korg B2: The Full Summary of Difference
Yamaha and Korg released their low-cost 88-keys digital piano option to be marketed for beginners at around the same time: the former's P45 was in 2015, and the latter's B1 the year after.
While Yamaha's offering was lauded, many found Korg's piece lacking in various aspects. So the company went back to their drawing board to figure out how to improve it. By 2019, Korg released the B2.
The B2 is an array of three different digital pianos: the standard B2, the B2SP, and the B2N. The standard-issue is what's pitted against the Yamaha P45 in this write-up. But just for your information, the upgrades found on the two others are not that massive. The B2SP is simply the set-up that includes a wooden stand and three pedals, while the B2N is the model lighter by 4.4 pounds.
But despite Korg's modifications, Yamaha still wins 2:1 in the Yamaha P45 vs Korg B2 head to head. Check out why in the detailed commentary below:
Feel
Winner: Tie
Korg's B2 and Yamaha's P45 are pretty much the same regarding the feel, hence the 'tie' rating. Both have 88 keys that mimic the hammer action of an actual acoustic piece – a significant component found in a $500 or under instrument. However, the two companies have scrimped on the actual material used for the keys. It is unfortunate but expected of the price point.
+Hammer Action
Korg's B2 makes use of the NW or Natural Weighted Hammer Action that simulates the natural mechanism of acoustic uprights, which is heavier at the bass and lighter at the treble. This mechanism is also used on their B1 – something that isn't exactly 'broke', so it didn't need fixing. Some have commented that this has more weightedness than its contemporaries, but that's nitpicking, in my opinion.
Yamaha is acclaimed for a whole lot of aspects when it comes to their pianos. But one technology that they have pretty much perfected is their GHS or Graded Hammer System, used even in their top models and pricey acoustic grands. It's similar to Korg's NW – heavy at the left, light to the right. But I find this more realistic, even having that slight escapement.
+Key Texture
As expected, the keys on the P45 and the B2 are plastic-smooth, far from the textured wooden or authentic ivory ones. The black keys on the P45 have a slight grit to them, which is good enough. First-time musicians won't notice this, to be honest, until they start playing on acoustic uprights or grands.
Tone
Winner: Yamaha P45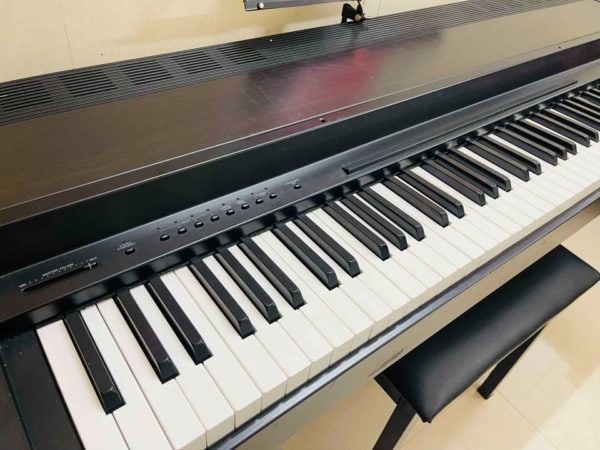 The tone is equally as important as the feel. It is even more so for some because the sound is what everyone – musician and audience – appreciate.
Korg B2 does have an edge when it comes to the sound library (it has more) and digital effects (it also has more). However, the sound engine of Yamaha P45 creates richer and clearer piano tones, so it is the winner in this aspect.
+Tone Generation
Korg B2 makes use of Stereo PCM (Pulse Code Modification). PCM, not exactly piano jargon, sounds like (and indeed is) a very technical term. But this means that the tones are built from several short samples, which are then combined to come up with realistic sounds.
Yamaha P45 makes use of AWM (Advanced Wave Memory) Stereo Sampling, which involves capturing the sound at various volumes several times and then layering those together as one recording.
Although named differently, the technology used by the two is pretty much the same. The sound created by the P45 is a bit more brilliant though, so I'm giving this point to Yamaha.
+Sound Library
The P45 has ten voices: two each of grand piano, electric piano, organs and harpsichords. The orchestral string and vibraphone complete the array. I'm not a big fan of the organ and harpsichord, but the quality of the piano tones are exceptional for a budget instrument.
Korg has dramatically improved the quantity and specificity of the voices from the B1 to the B2. First of all, it has four more than its predecessor. On top of that, the sound is more detailed. Finally and most importantly, the company has made each sound richer. The set includes five grand pianos (Classic, German, Italian, Ballad, and Jazz), three electric pianos (Wurlitzer, Rhodes, synthesizer style), two organs (pipe and electric), a harpsichord, and orchestral strings.
+Digital Effects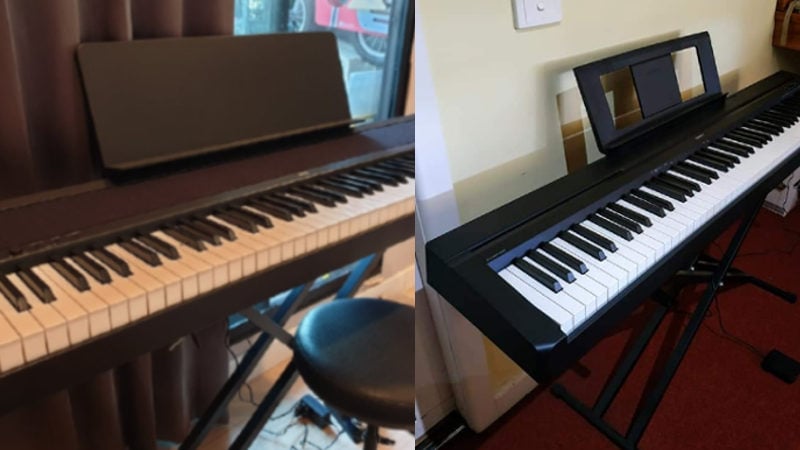 The two digital pianos both have Reverb. Many concert musicians look for this effect in digital pianos because it adds flourish or production value to the music, mainly if they record their compositions.
Korg outfitted their B2 with Chorus, the effect which thickens the sound. While it's not as crucial as Reverb, it's a nice effect to have, particularly for those who favor electric piano voices.
Integral Features and Functions
Winner: Tie
It was challenging to determine which of the two deserves the winning spot here since the Yamaha P45 has features Korg's B2 lacks, like several playing modes. And there are aspects in which the B2 rates better than the P45, such as the polyphony count and voice variety. The two are essentially tied in this chapter when all things are considered.
+Polyphony
The P45 loses in this factor as it only has 64 compared to the 128 of the B2. To be honest, grade 1 piano pupils wouldn't use up all 96 when they play simpler songs. But this detail is something any student will notice as they advance and learn more complicated pieces.
+Accompaniment
The inclusion of demo songs may not seem as important as the others since companies add this particularly to demonstrate their digital piano's sound engine and speakers. But this is quite helpful for beginners since they can play along with the demo songs.
Yamaha's P45 has 10 (Beethoven's Fur Elise, Joplin's The Entertainer, Debussy's La Fille aux Cheveux de Lin), while Korg's B2 has 12 (Danse, Je Te Veux, Wind and Tide).
+Playing Modes
This is the feature that makes the P45 the better choice for beginners, thanks to its Layering and Split capabilities. The former allows you to play two different voices simultaneously, say a grand piano and the orchestral strings. The latter divides the 88-keys into two 44-key pianos of the same octave so tutor and student can play side by side. Korg B2 does not have this, unfortunately.
+Speaker System
Yamaha P45 has two built-in speakers under the piano measuring 12 cm with 6W of power. I found it's good enough for practicing on your own but it isn't powerful enough in a full band set-up without additional amplification.
Korg's B2 finally has this as well (B1 didn't have this) and is objectively better than the P45 with two 15W speakers located right above the keys.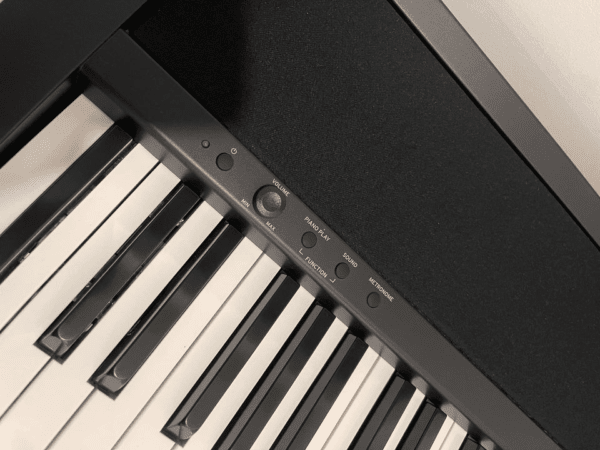 +Connectivity and Storage
Both can't record playback on the piano but have a USB MIDI connection, so recording is possible through another device. Headphone and pedal jacks are also part of the set.
What I'm most disappointed about is the proprietary pedal jack on the Korg, which is incompatible with standard damper pedals, meaning you'd have to buy that specific item if your old one conks out.
Yamaha P45 vs Korg B2: The Similarities
Physically speaking, the P45 and the B2 are almost the same, from the weight (11.5kg vs 11.4kg, respectively) to the width, length, and height (with a difference of just a few millimeters). Although these aren't the best instruments for gigs or concerts, the two are perfect for carrying around because of their weight and compactness.
They both have 88 keys that simulate an acoustic piano's natural weightedness and are powered by decent sound engines that produce clear, vibrant sounds. Barring the other features that separate the two, these digital pianos are great for practice.
Quick Rundown of the Yamaha P45
Sale
Yamaha P45 88-Key Weighted Digital Piano
Includes the P45 Digital Piano, power adapter, sustain pedal and music rest
88 fully weighted piano style keys simulate the feel of an acoustic piano and provide a quality playing experience
GHS weighted action is heavier in the low end and lighter in the high end, just like an acoustic piano
Contains 10 different voices, including digitally sampled tones from real Yamaha acoustic grand pianos
Dual mode lets you combine 2 voices together, like piano and strings, for an inspiring new playing experience. Tuning- 414.8 - 440.0 - 446.8 Hz
Last update on 2023-09-17 / Affiliate links / Images from Amazon Product Advertising API
Quick Rundown of the Korg B2
Sale
KORG B2SP 88-Key Digital Piano with Stand with 3 Pedal Unit Bundle with Bench, Music Light and Piano Book/CD (4 Items)
Bundle Includes: KORG B2SP 88-Key Natural Weighted Hammer Action Digital Piano with Stand and Three-Pedal Unit, Furniture Style Flip-Top Piano Bench (Black), Rechargeable Music Light (Black), and Piano Learning and Playing Book (with CD)
Sound Engine: The B2 provides a total of 12 sounds that cover a diverse range of genres, starting with five pristine piano sounds from its new piano engine, and also providing richly distinctive electric piano, organ, harpsichord, and strings. In addition to capturing the enormous tonal range of a grand piano, the meticulously-sampled sounds created for the B2 Digital Piano also reproduce the sympathetic string vibrations and damper resonances that give the piano its character
German Piano Sounds: This world-famous German-made piano is beloved by countless pianists for its diverse range of expressive power. With stunning sonic dynamism and vibrance, its palette ranges from brilliant highs to chillingly detailed lows. The provided sounds include the majestic German concert piano and a Classic piano noted for its delicate and complex tone
Italian Piano Sounds: An Italian-made piano with beautifully bright expression and satisfying sustain. Pianists around the world are enraptured by its rich resonance and sensitive responsiveness. The sounds provided are Italian concert piano, a bright-toned Jazz piano, and a beautifully resonant Ballad piano
Electric Piano Sounds: An e-piano reproduces the differences in tone that arise from your playing dynamics and even simulates the sound of a key-off. Conjure electric piano sounds that are instantly recognizable from decades of great music
Last update on 2023-09-17 / Affiliate links / Images from Amazon Product Advertising API
Product Videos
Related Articles to Yamaha P45
Related Articles to Korg B2
Reference

Lulacruza is an electronic folk duo operating at the junction of the hypermodern and the ancient. Our music weaves together hypnotic female singing, South American folk instruments and electronic processing, while channeling pulsating waves from the source of creation.
Lalucruza is also a community where you can connect with other music lovers to collaborate, exchange ideas and share knowledge. A platform for who wants to learns the basics of playing piano, guitar, drum masters' technique, etc.. is the premise of our website.